Brovad Sands Lodge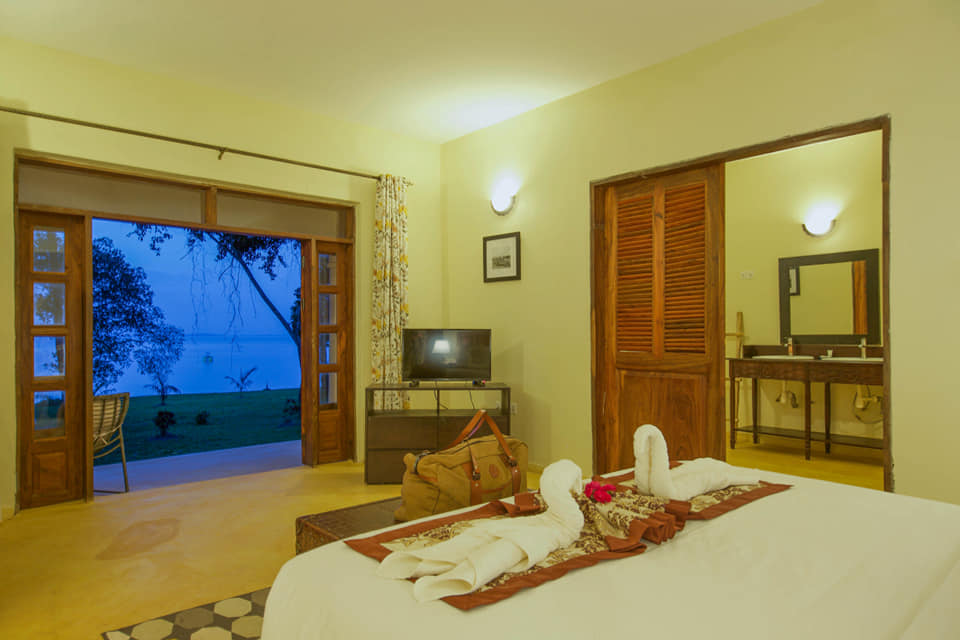 Brovad Sands Lodge is located on Bugala Island on the north west of Ssese Islands, one of the most authentic and secluded places on the islands. With its 1,500 square meters of pristine white-sand beach, the resort is a quiet paradise offering privacy and tranquility in the heart of nature.
This is arguably the best budget honeymoon holiday destination in Uganda.
Malakai Eco Lodge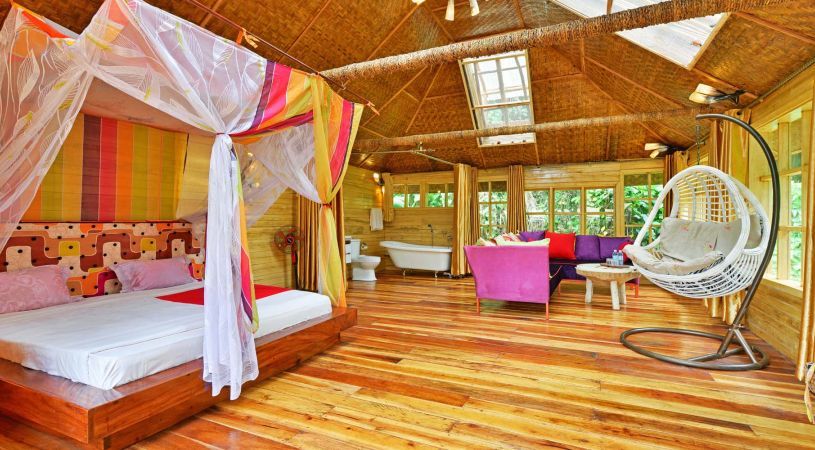 Malakai Eco Lodge is an eco-friendly lodge located off Entebbe road in Kitende with a lovely ambious. The amazing beauty and African inspired architecture of this lodge has attracted many artists to shot their music videos at this property. Malakai Eco Lodge was constructed in the middle of the nature where you will see monkeys play around your room or even in the restaurant.
Looking for a remarkable place to stay for your honeymoon in Uganda, Malakai Eco Lodge is one of the best options.
Nature's Green Beach Resort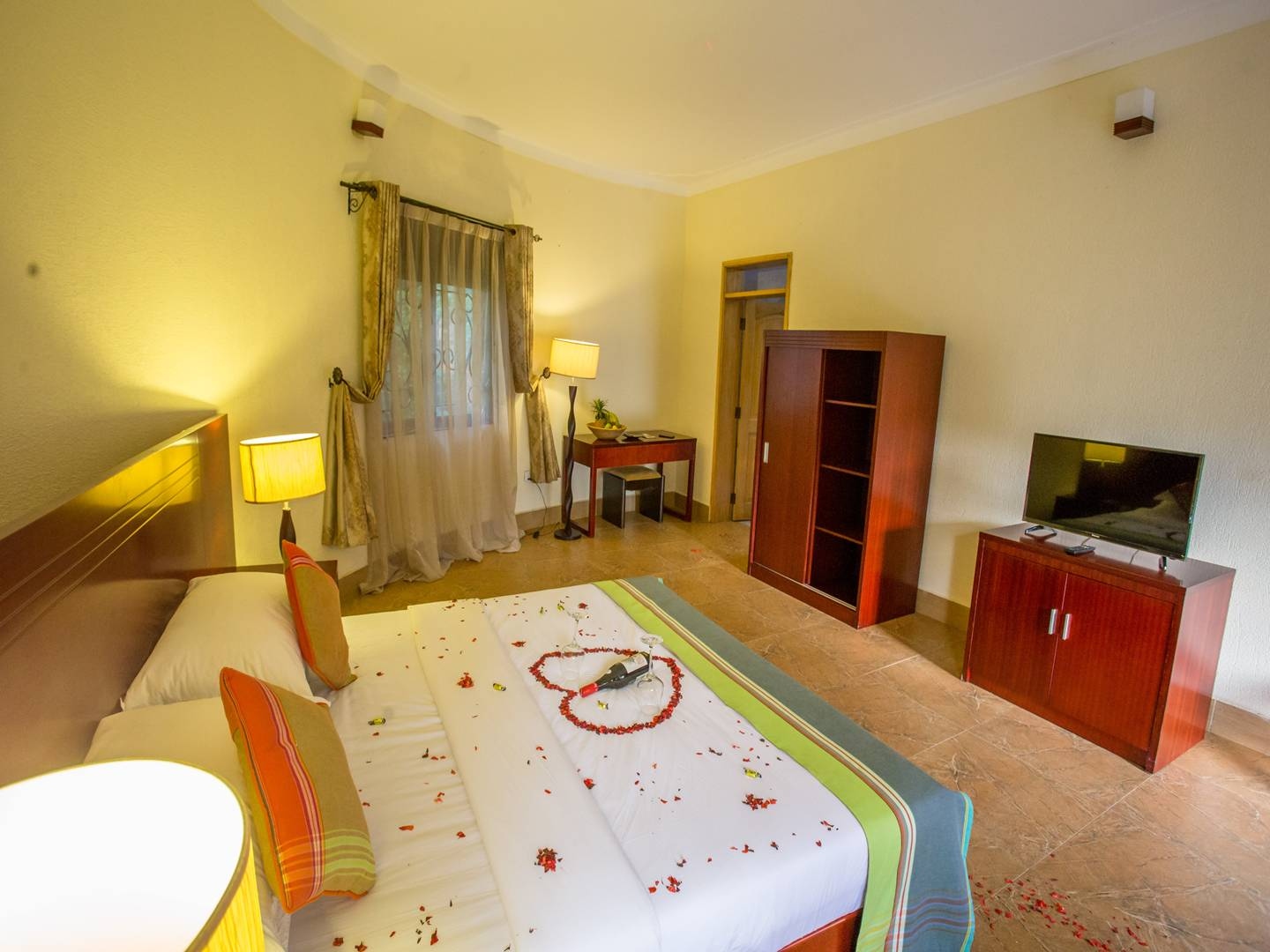 Nature's Green Beach Resort is the perfect place to celebrate your honeymoon in Uganda. With a private beach, this lakeside beach resort offers a romantic ambiance for couples on a honeymoon holiday or anniversary getaway. Located in Kaazi near Munyonyo, Nature's Green Beach resort stands tall among the best cheap destinations for honeymoon vacation in Uganda.
Lakeside Escape Resort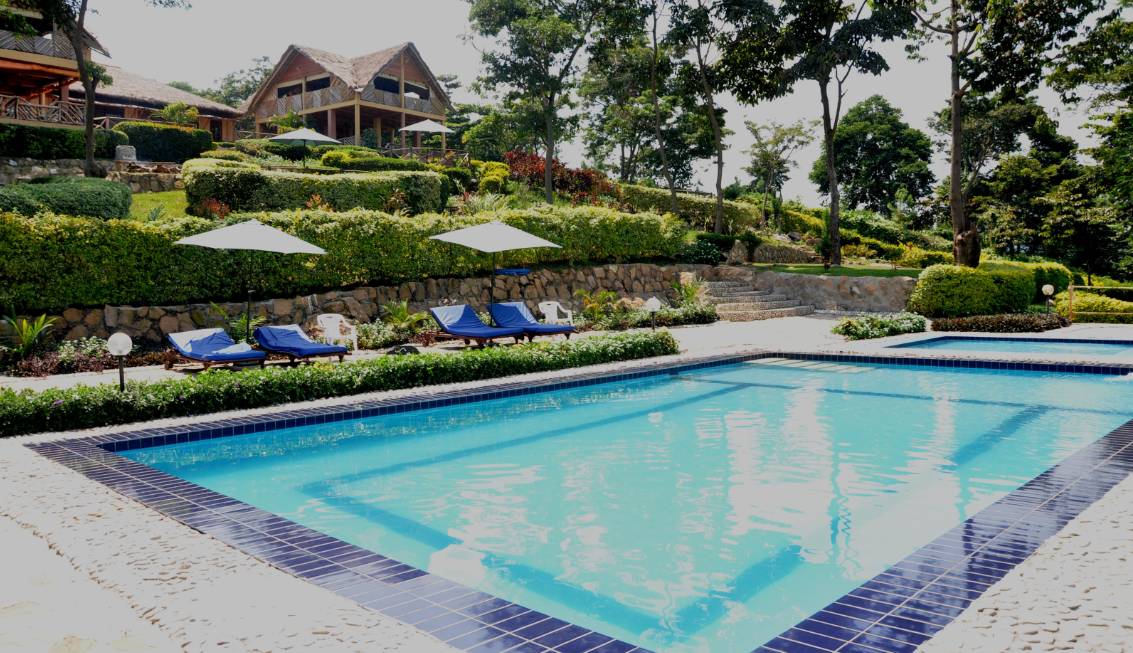 Accessed through Ggaba by boat, Lakeside Escape Resort is a true paradise for honeymooners to relax by the shores of Lake Victoria. Lakeside Escape is located in Mukono with spectacular views of Africa's largest freshwater lake. The lodge has its boat stationed at KK beach Ggaba to transfer you to and from the resort sailing for about 45 minutes. This is a perfect hide-away and is best secluded for lakeside honeymoon holidays in Uganda.
Samuka Island Retreat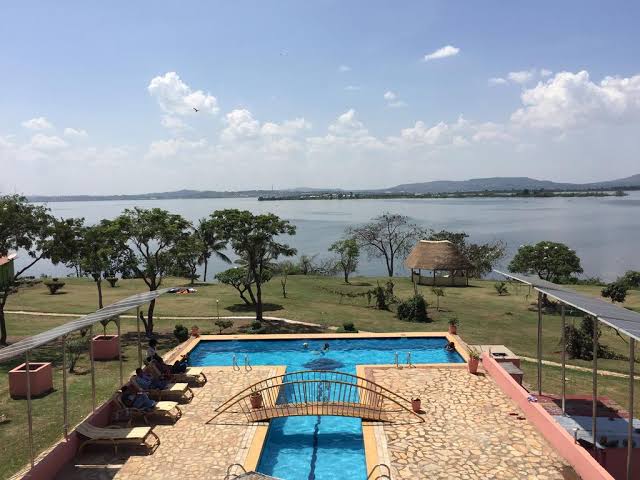 For peace, tranquility and serenity to unwind, relax and recharge, Samuka Island Retreat offers unique cottages within a romantic and secluded environment. Located on a private island in Jinja near the source of the Nile, this is the right spot to relax after your amazing wedding.
Emburara Farm Lodge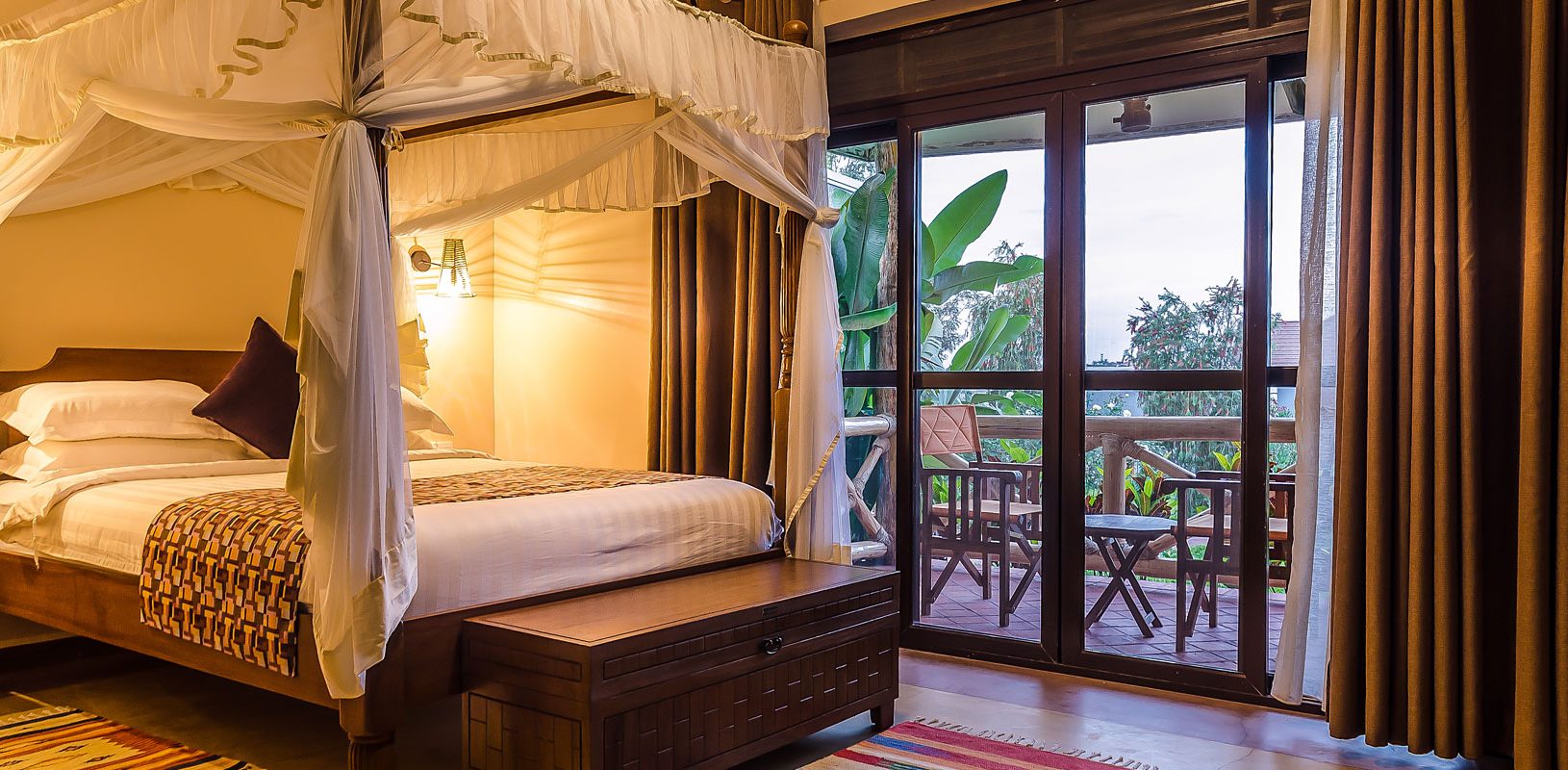 A luxurious touch mixed with true African experiences, Emburara Farm Lodge is one of the loveliest places in Mbarara. Located in the land of milk and honey (Mbarara) this lodge has a farm where you experience life as a herdsman from the Ankole Kingdom. Emburara Farm Lodge is the best choice for those looking an African cultural encounter on their honeymoon holiday in Uganda.
Arcadia Lodge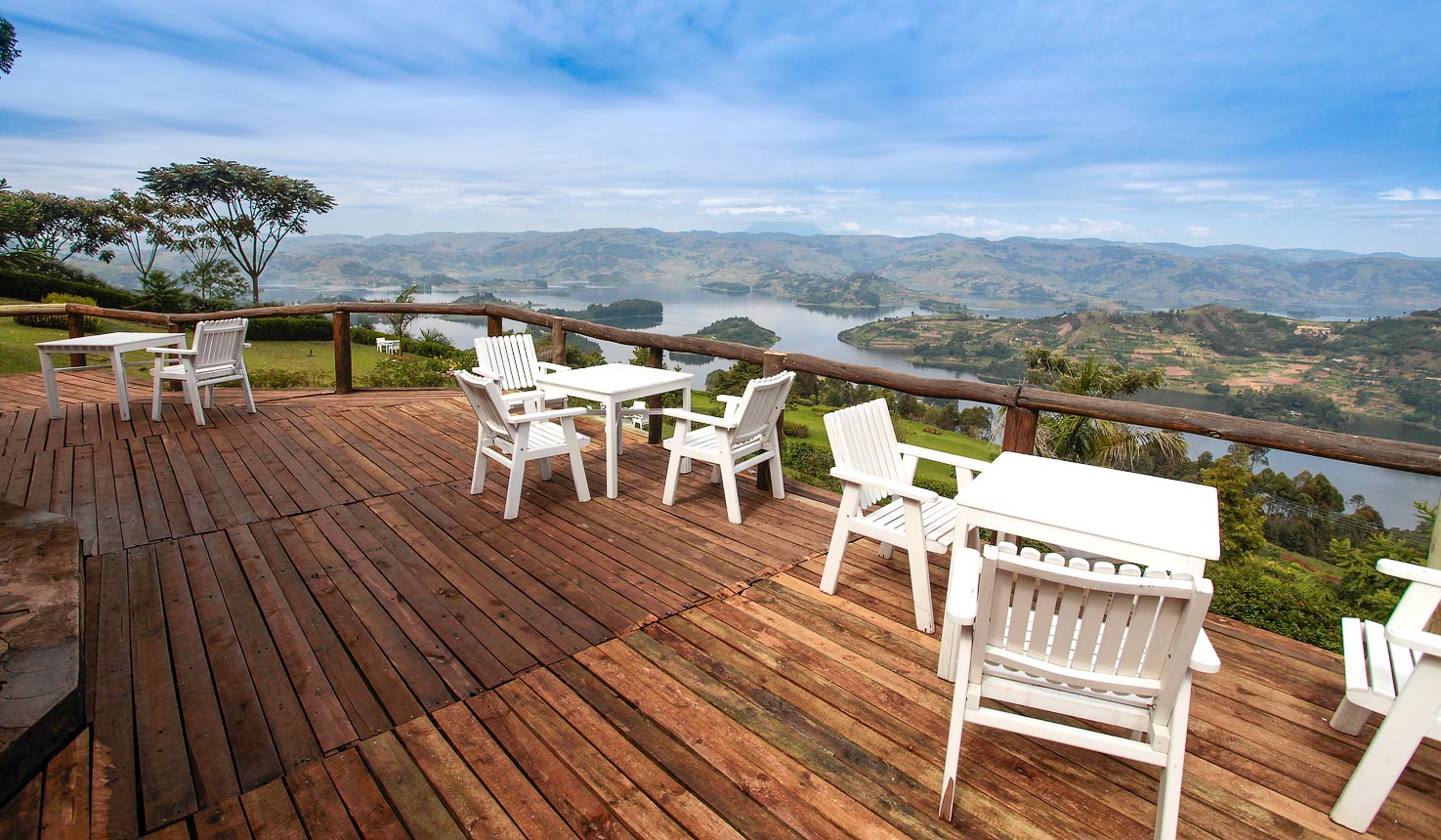 Built high on a hill, Arcadia Lodge has intoxicating views over Lake Bunyonyi dotted with dozens of islands and a backdrop of the Virunga Volcanoes in the distance. The lower rows of cottages are the pick of the honeymoon accommodation, boasting unhindered views, private porches and comfortable rooms. The ultimate views make this lodge a perfect destination for honeymoon holidays in Uganda.
Ngamba Island Chimpanzee Sanctuary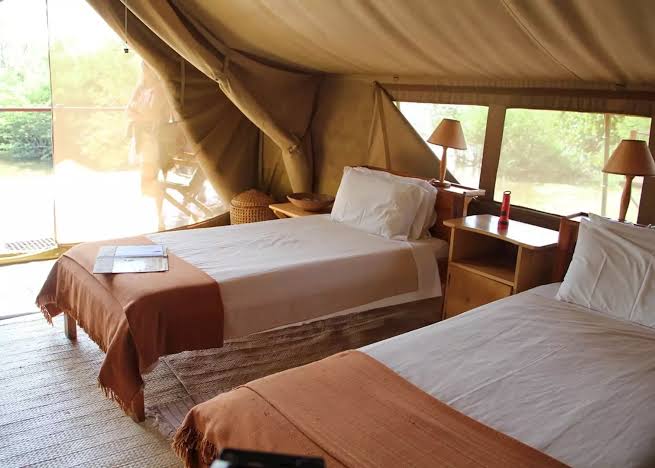 Surrounded by the peaceful waters of Lake Victoria, Ngamba Island Chimpanzee Sanctuary is home to 49 orphaned chimps rescued from throughout Uganda. Island facilities offer day trips and overnight trips which provide exceptional opportunity to closely observe and interact with these fascinating great apes in this unique setting.
Malakai Island Resort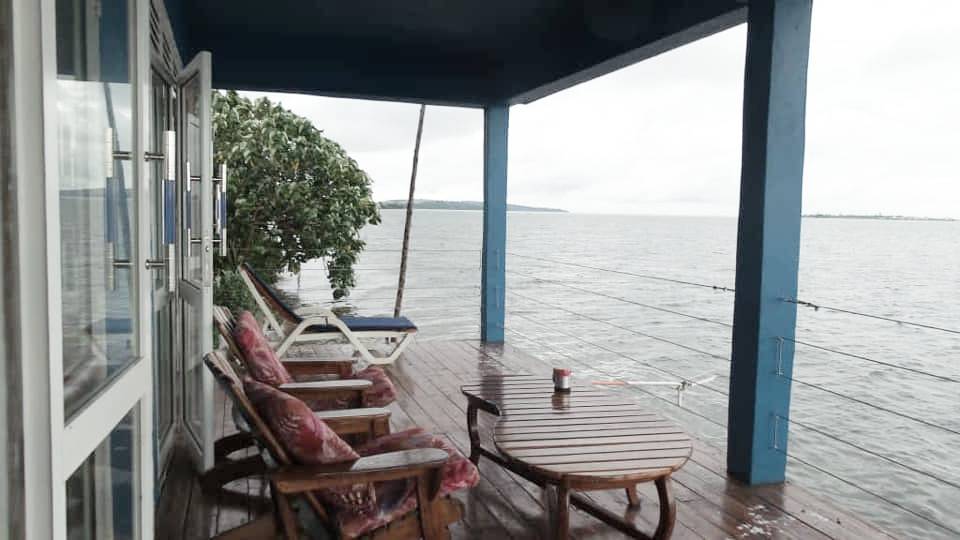 Malakai Island Resort is a new one of a kind lodge in the Koome Islands of Lake Victoria. It is a fusion of Africa with a modern touch. From the art décor from African Artisans used throughout to the mouthwatering meals, makes your stay here memorable. The great and spacious cottages, set apart from one another for privacy with views of the lake are fantastic. This is definitely a gem of a honeymoon lodge to stay after your weeding.
The Haven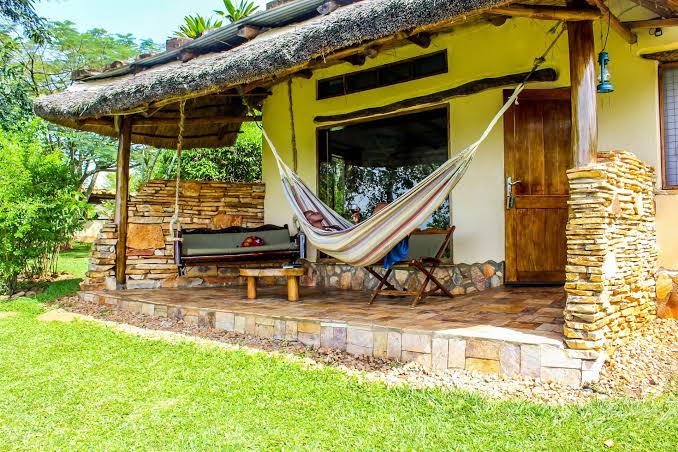 Overlooking the river, The Haven offers tranquility and a breathtaking view of the first rapids of the majestic Nile. Located approximately 20km northwest of Jinja town, it is only a 2 hours drive from Kampala City. With various facilities available that include camping grounds, family sized and luxury cottages you will be spoiled for choice.
Serenada Eco Resort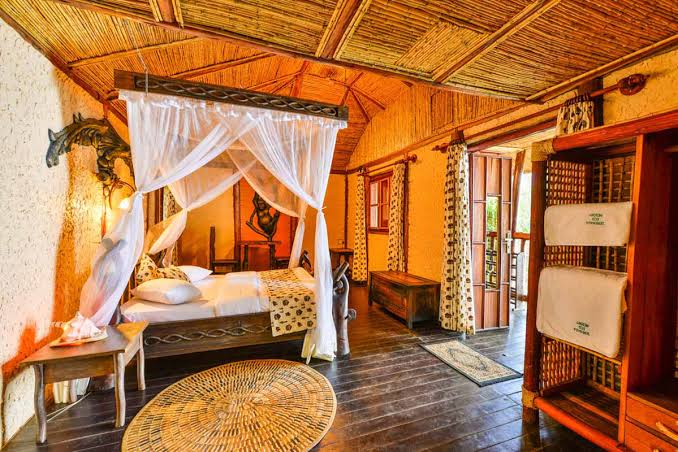 Take a 30 minutes boat ride from Ggaba on Lake Victoria and you will arrive at the tranquil Serenada Eco Resort. Nestled within a natural forest on the shores of the lake, the resort offers you a relaxing stay that is a world away from the bustling Kampala city just across the water. Abundant wildlife, bird species, colourful flora and fauna and secluded gardens will hold you captive for longer than your stay.
Top 13 Luxury Honeymoon Destinations in Uganda
Sanctuary Gorilla Forest Camp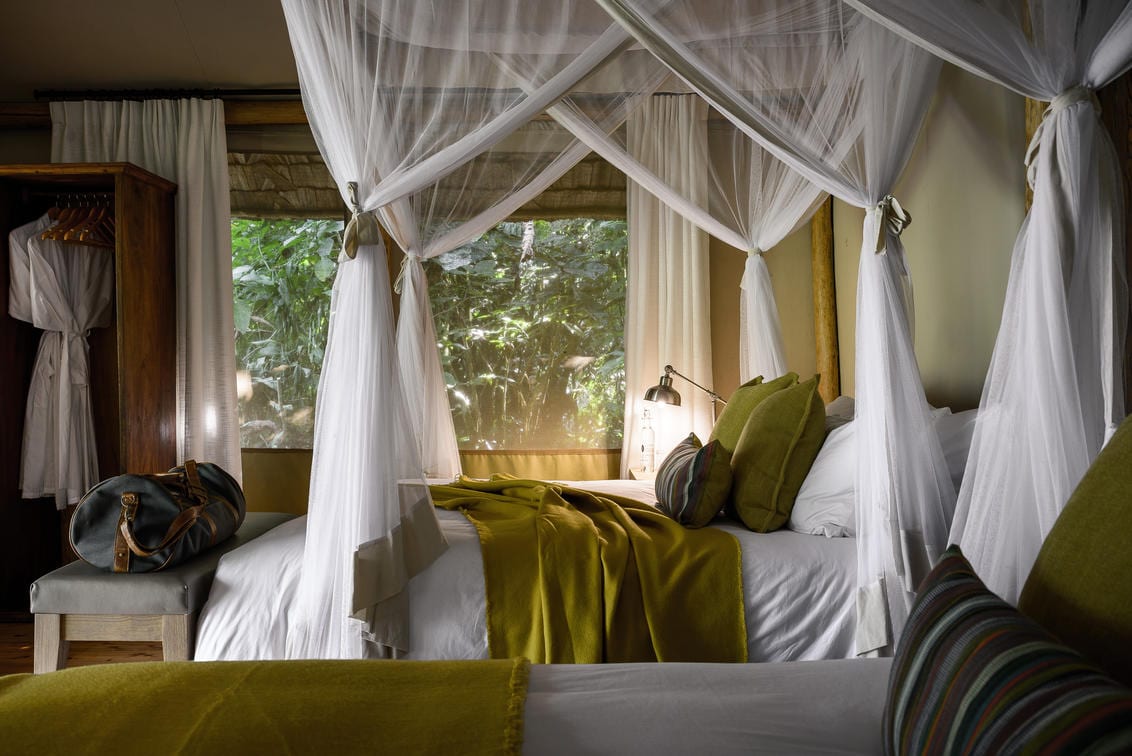 Sanctuary Gorilla Forest Camp is one of those perfect honeymoon lodges inside of the ancient Bwindi Impenetrable Forest. Sanctuary Gorilla Forest is one of those unusual Honeymoon locations, an experience that cannot be replicated anywhere else in the world – you have to come to Sanctuary Gorilla Forest Camp in Bwindi Impenetrable Forest home to over half the Mountain Gorillas in the World. The Perfect location for Uganda Gorilla Tracking, great food, and exemplary service. It simply does not get any better and you just might have some visitors (gorillas) from the forest which makes the experience even more amazing.
Wildwaters Lodge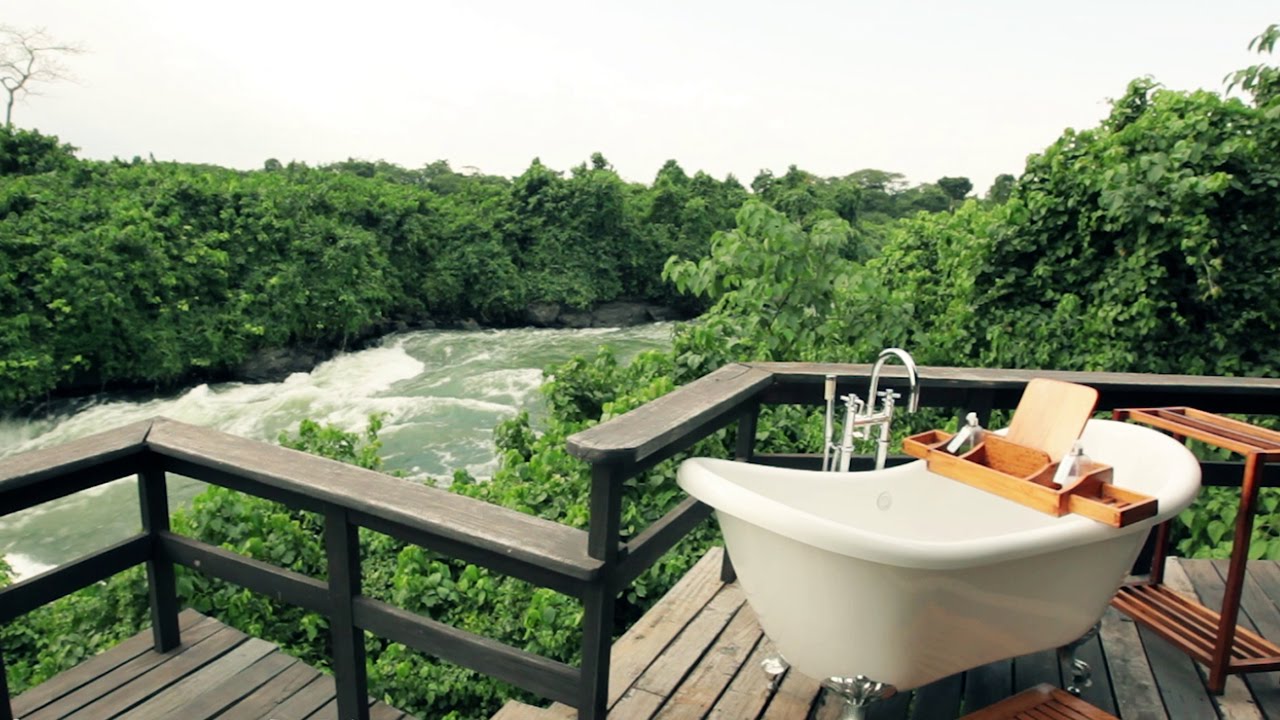 Wildwaters Lodge, your stay is on a private island in the midst of the rushing River Nile.  You stay in a one of a kind incredible, romantic setting in one of Uganda's most superb lodges. Tented Cottages that lack nothing, private decks with a tub, excellent food, and nature walks on the island, a place where you can relax and simply  and enjoy the tropical sun on one of the most celebrated rivers in the world, the River Nile.
We include this lodge in our celebratory Safaris such as Honeymoons.  The Safari, however, has to end or begin In Entebbe to be logically included in a Honeymoon Safari.
Chobe Safari Lodge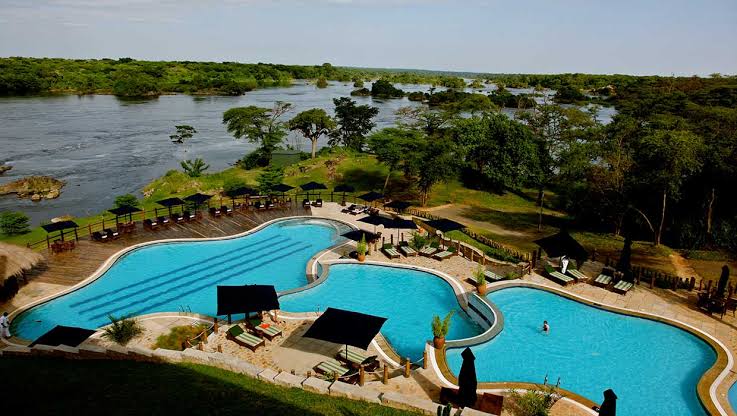 Chobe Safari Lodge located along the Nile River in Murchison Falls National Park above the falls is a 5-Star plus safari lodge that caters to every one of your needs in an exceptional manner. Honeymooners love it here and find Chobe Safari Lodge a superb place to spend a few days on a honeymoon in Uganda. There is the River Nile, fishing, nature walks, game drives, swimming in the pool, and delightful meals that are served here.
Apoka Safari Lodge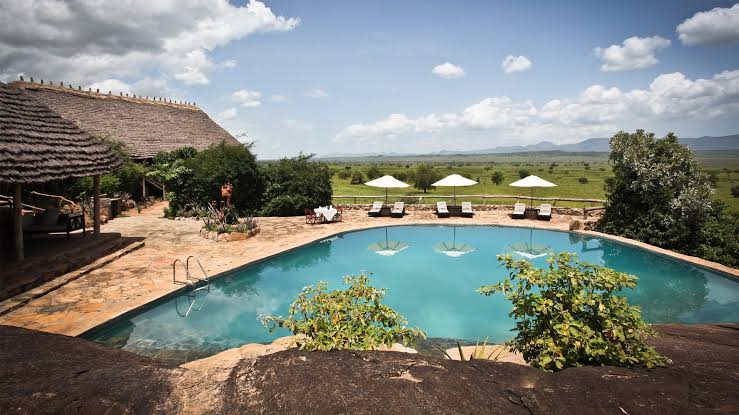 With golden grass plains and jagged hills surrounding it, Apoka Safari Lodge is set in Kidepo Valley National Park, the country's remotest game park from the capital. Abundant wildlife will keep you transfixed as you gaze upon lions, elephants, giraffes, zebras and herds of buffalo.
Pineapple Bay Resort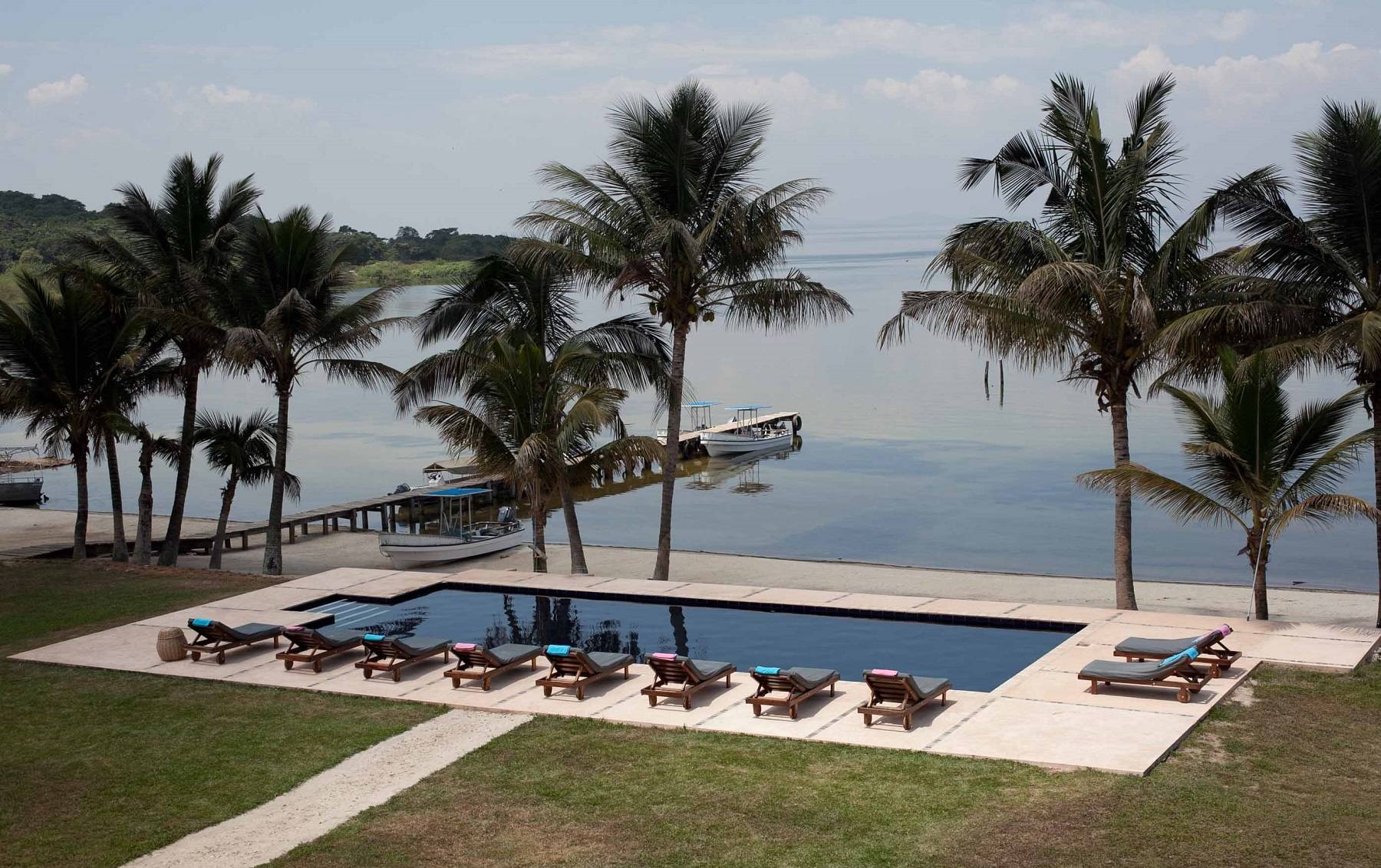 Pineapple Bay Resort on Bulago Island is the perfect spot to end your honeymoon in Uganda on a tropical Island in the Sun – a honeymoon cottage is there, swimming pool, nature walks, times for reflection and dinners on the beach. Swimming pool and those nightly lightning storms in the distance, there is nothing like it. You have a cottage right on the beach, overlooking Lake Vitoria, watch the sun rise and set.  Palm Trees all around, nature walks, sail the lake, fish here, swim in the pool, enjoy the gourmet meals served here.
Speke Resort Munyonyo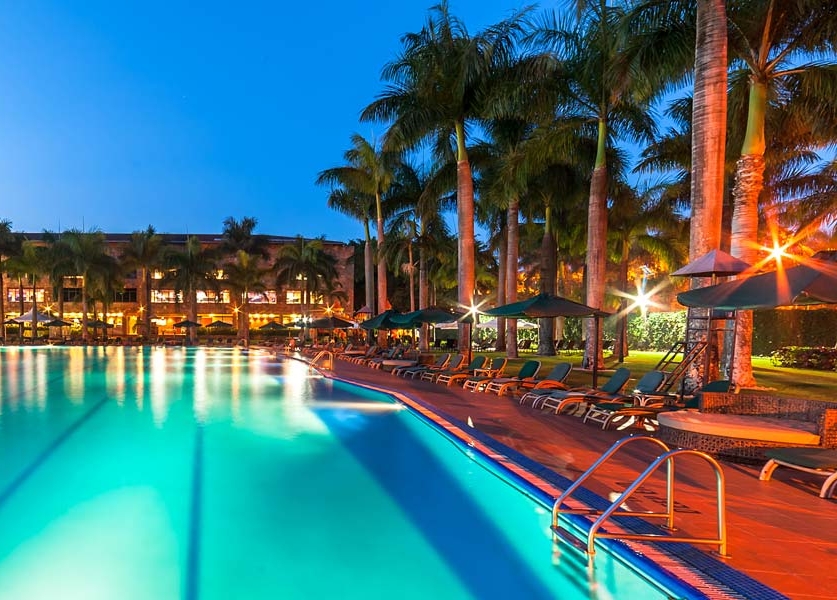 Speke Resort is one of Uganda's premier lakeside resort located in Munyonyo – Kampala. This amazing hotel has won many international hotel awards for its remarkable services and excellent customer care. This resort offers stunning views of Lake Victoria with a fantastic swimming pool coupled with amazing activities such as boat cruises and pony rides. Speke Resort Munyonyo is not only Uganda's top wedding destination but also a perfect place for a honeymoon holiday in Uganda.
Kyambura Gorge Lodge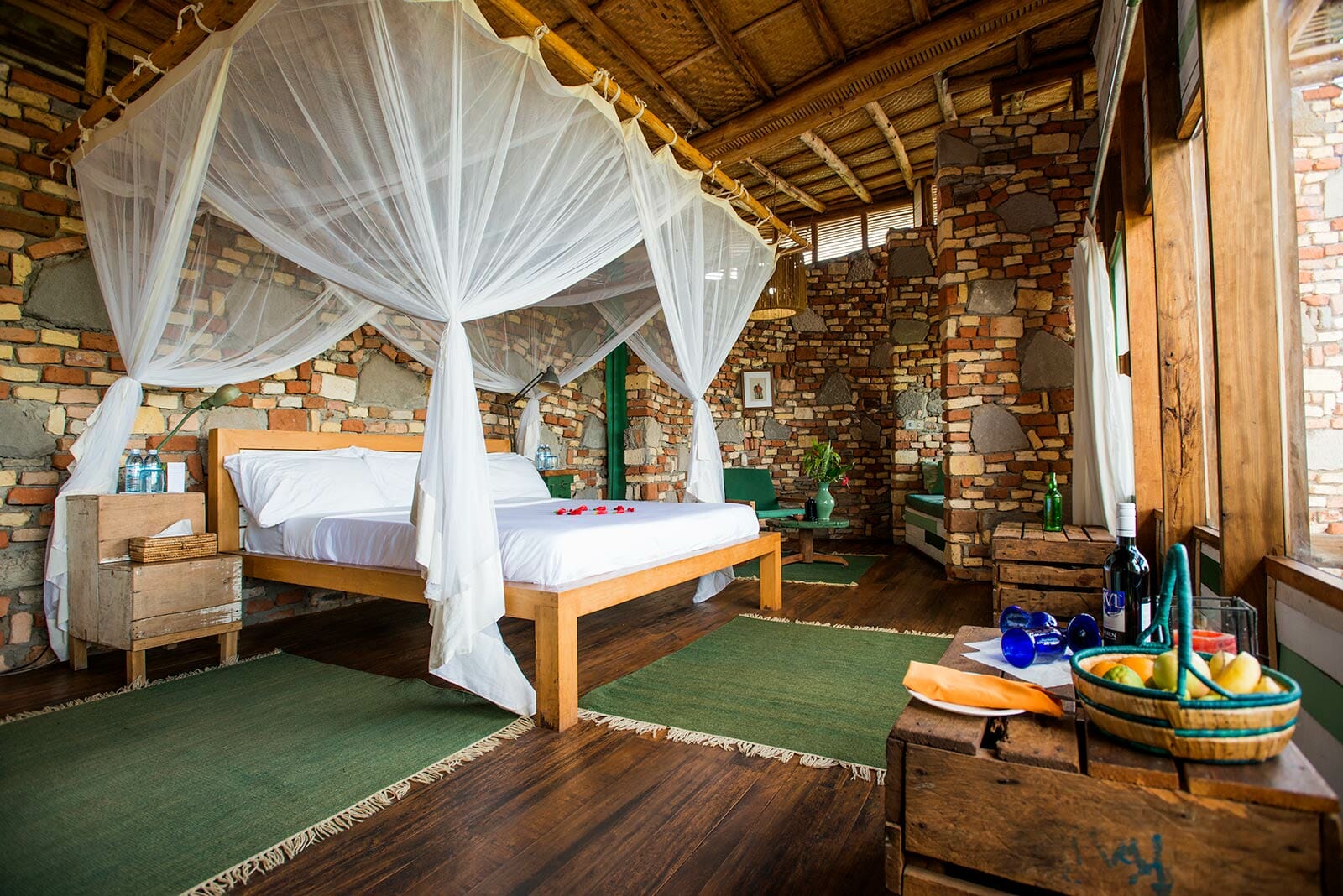 This classy lodge is located near the Kyambura Gorge which is a giant gash in the Savannah of Queen Elizabeth Park.  The lodge was created by taking an old coffee shop and giving it a new life as an exclusive luxury Lodge. Today it is one of the finest lodges in Uganda, but still has that rustic look to it. Exquisite Bandas as the cottages are called here.  There is a swimming pool at the main lodge where you take a drink and hear the stories about today's safari adventures that various guests had.
Paraa Safari Lodge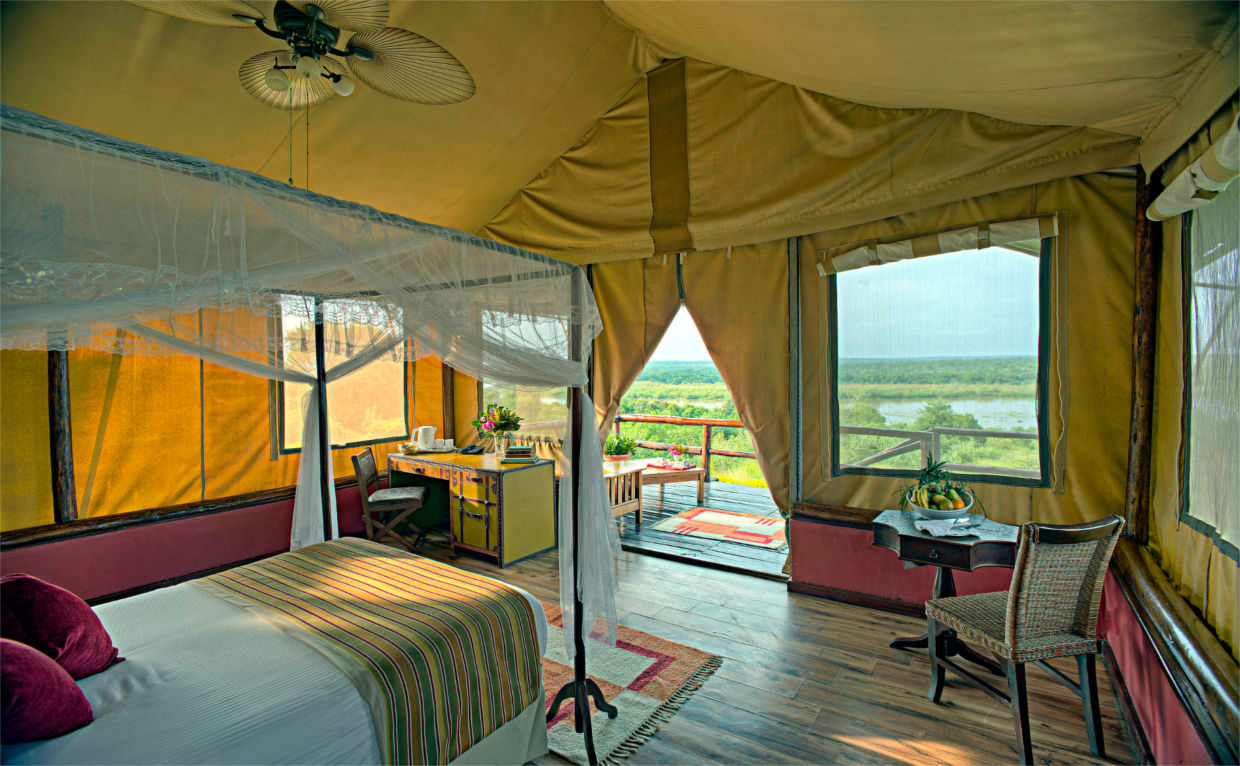 This beautiful Lodge is located in Murchison falls national park offering a choice of fine dining throughout one's stay, and the Explorer's bar is the ideal watering hole after a day of wildlife discovery in Murchison Falls National Park. There is always a boat cruise over the Nile waters in the afternoons of every single day. A unique blend of comfort, relaxation and adventure are a sure green light for what the Lodge has to offer. The Lodge has a swimming pool for those that love spending time in the waters. You stay here will surely be remarkable.
Mweya Safari Lodge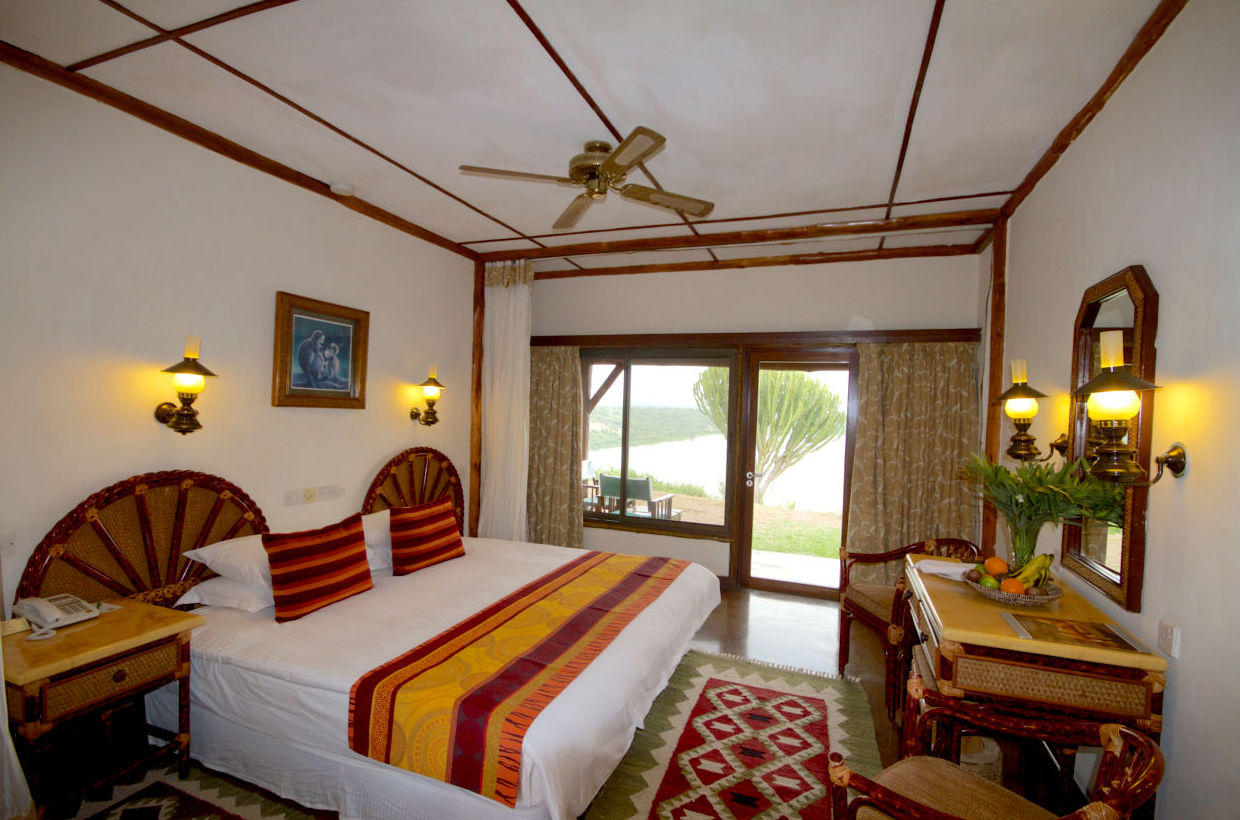 Mweya Safari Lodge has one thing over all other lodges and that is its location.  It is on the Mweya Peninsula and the Kazinga Channel with its wide variety of wildlife and numerous birds. You have the choice of rooms, suites, luxury Tents and cottages that come with two bedrooms – a living area and two bathrooms. Our clients prefer the cottages like the Queen' Cottage or the Luxury Tents that are near to the famed Kazinga Channel.
Kyaninga Lodge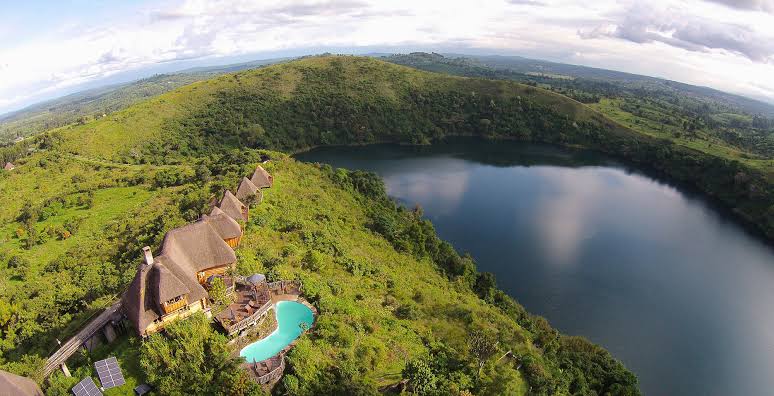 Kyaninga Lodge has incredible log-cabin lodges overlooking a pristine crater lake, swimming pool, lawn tennis court, food to live for. It is the perfect honeymoon place near Kibale Forest and Fort Portal. The views alone are worth a stay here. Kyaninga Lodge is one of  best honeymoon lodges in Uganda; its fame has gone far and wide as one of the premier, honeymoon lodges in the Pearl of Africa.
Mazike Valley Lodge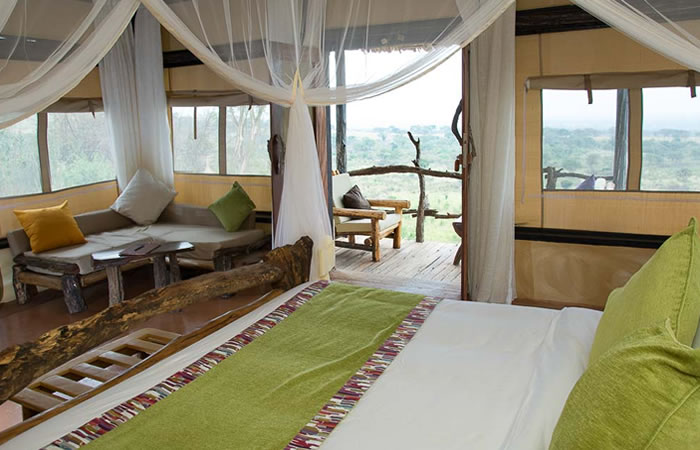 Mazike Valley Lodge is located in close vicinity with the famous Kyambura gorge which is home to a family of Chimpanzees in Queen Elizabeth National Park. This luxury lodge offers amazing views of the savannah and underground forest of Kyambura gorge. The African stylish rooms leave you with a feel of a true African holiday with a modern touch and remarkable customer service. Mazike Valley Lodges scoops a place in the best luxury destinations for honeymoon in Uganda.
Mihingo Lode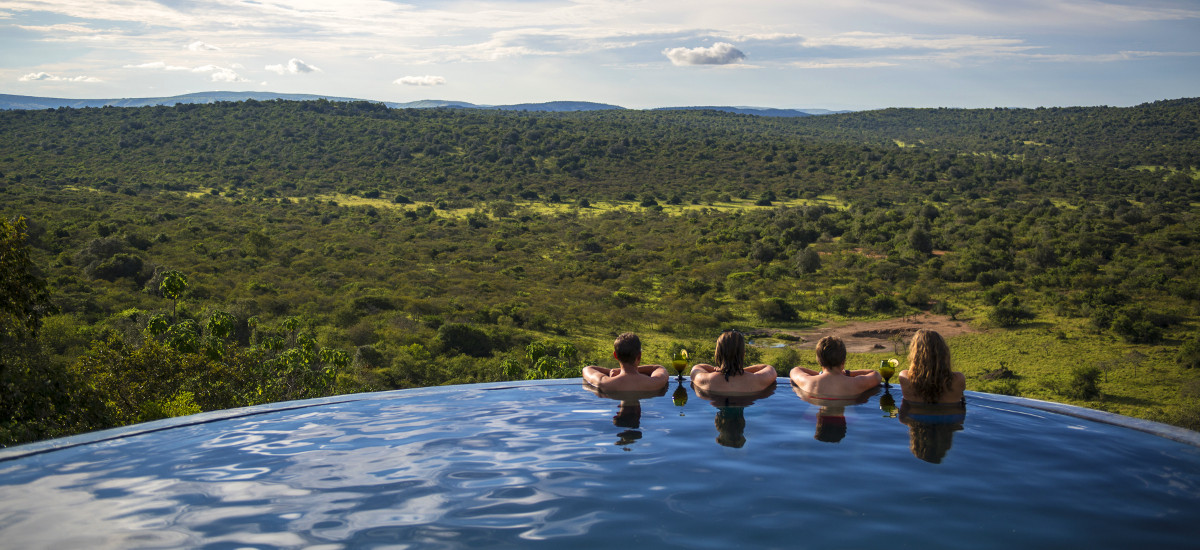 Mihingo Safari Lodge is a favorite among honeymooners in Uganda. It is simply an amazing lodge, each tented cottage is private from the other, great views, and even from the bathrooms you have a most splendid view of the African Bush. You can enjoy horseback riding safaris, swimming pool with a view.
The Meals here are incredible and you can even have your own private bush dinner by your cottage.  The lodge caters to those on a honeymoon or other romantic, relational times spent here.  They will cater to couples in some incredible ways.
Chameleon Hill Lodge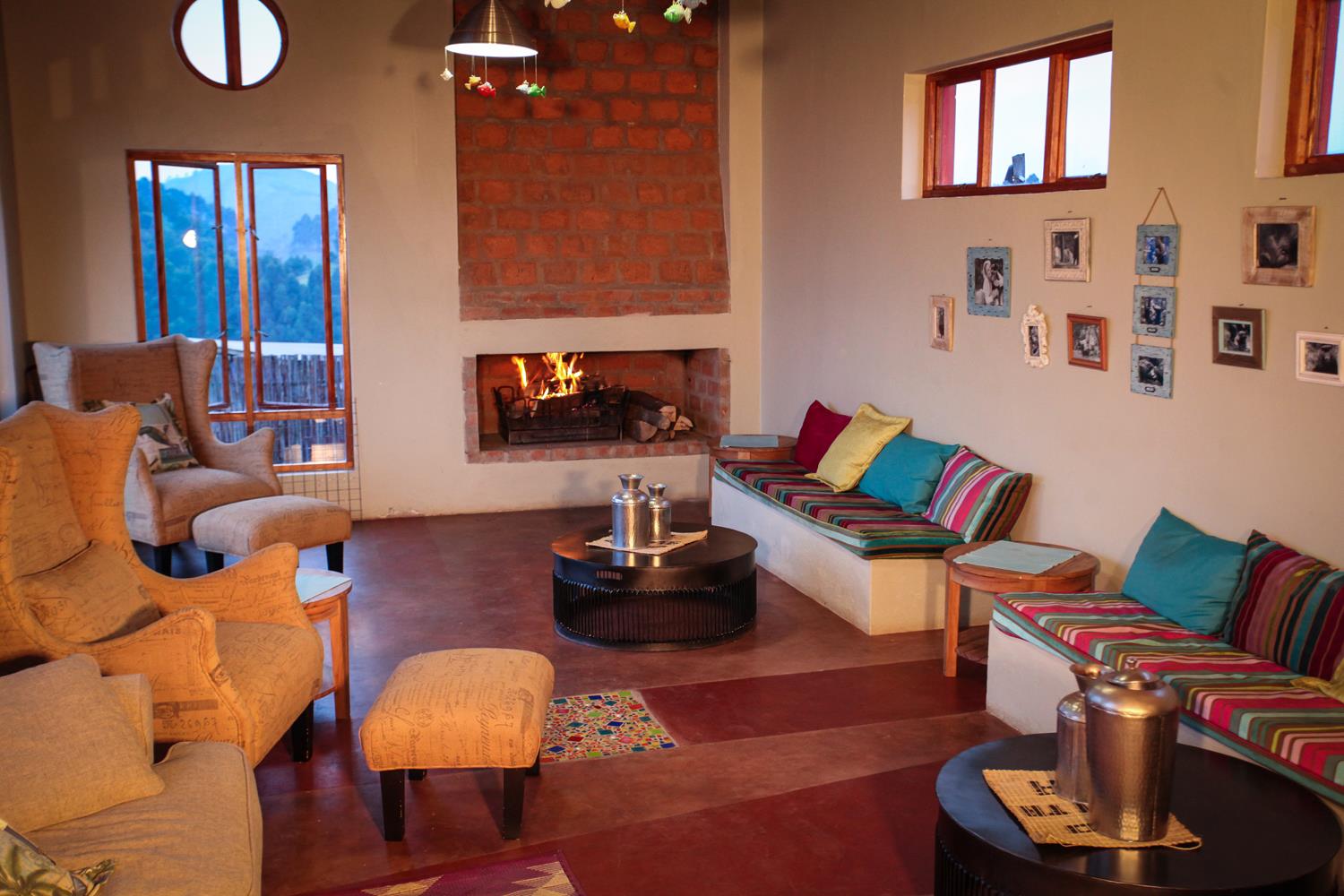 This up-market lodge along one of Africa's most stunning lakes with architecture that is certainly not the norm, your imagination can go free here, obviously the dear owner has made real what envisioned within and since it is brand. From here you can explore Lake Mutanda, Mgahinga Gorilla National Park and the southern sector Bwindi Impenetrable Forest.