NGONI Safaris Uganda Ltd
Ngoni Safaris is a Travel Agency based in Uganda rendering mountain gorilla Trekking experience, birding, and wildlife safaris doubled with a range of services including mountaineering, white water rafting, and culture and community tours among others in Uganda and the entire East African Countries offering tailor-made services suiting all travel budgets. We pride ourselves in ensuring convenient safaris based on our guest requests in terms of budget, time, and travel needs to enjoy your African safari. Mountain Gorilla trekking in Uganda and Rwanda, wild beast Migration in Tanzania and Kenya, Rwenzori and Kilimanjaro Mountain Hiking experiences, and white water rafting adventure along the Nile River. Our excellent team of Safari guides is capable to make your safari a lifetime experience accompanied by the great and mechanically sounding fleet. All our services are available throughout the year with the best time being December to January and June to August. Our knowledgeable and experienced team of the native Africans(Ugandan) will leave no stone unturned with regards to your joyful stay in East Africa, all our services are topnotch because of our esteemed teamwork, reliability, paying attention to details, and all our partners have achieved their Excellency for years in the business.
As a leader in the safari industry Ngoni Safaris Uganda Ltd® strives to meet and exceed the needs of our visitors by providing a range of exciting experiences and travel adventures that will be remembered for many years to come. Ngoni Safaris Uganda Ltd ® is a Ugandan Registered Business, specializing in Safaris to the world renowned East African National Parks. Our legendary Safaris over the past years have ensured that we know what our visitors crave and adore. We are proud members of safari booking.
Ngoni Safaris team partners with a variety of accommodation facilities countrywide at all levels depending on our clients' budget, our wide range of hotel partners include; bed space, tented camps, homestays, lodges, cottages, hotels, and motels these covers all our Budget, midrange, and luxury guests.
Why Choose Us
We are reputed for servicing requests right from the outset with professionalism, honesty and we appreciate that sometimes things just have to be done with urgency. We have a fast and simple booking system coupled with experienced staff who will assist you in choosing the correct option for your needs, ensuring you have the trip of a lifetime that suits your budget. Upon your arrival, we assure you that our service and product offering remains solid and without compromise.
At Ngoni Safaris Uganda® you are certain of quality services packaged with value for money, ensuring the highest standard of support; from your initial booking right through to your dream visit.
Community Development
We are involved in the upliftment of communities and are committed with other organizations in the development of communities in and around Kampala slums, Busoga region and Karamoja Regions . As a business we have knit ourselves into a unique structure wherein all staff have a shared vision and passion for people, building creative ideas that we can then share with you, our friends and clients.
Come meet us up close
We know you want adventure and our passionate and experienced team knows how to do that. Take a closer look… We won't bite!
Marketing and Communication
SAFARI VEHICLES.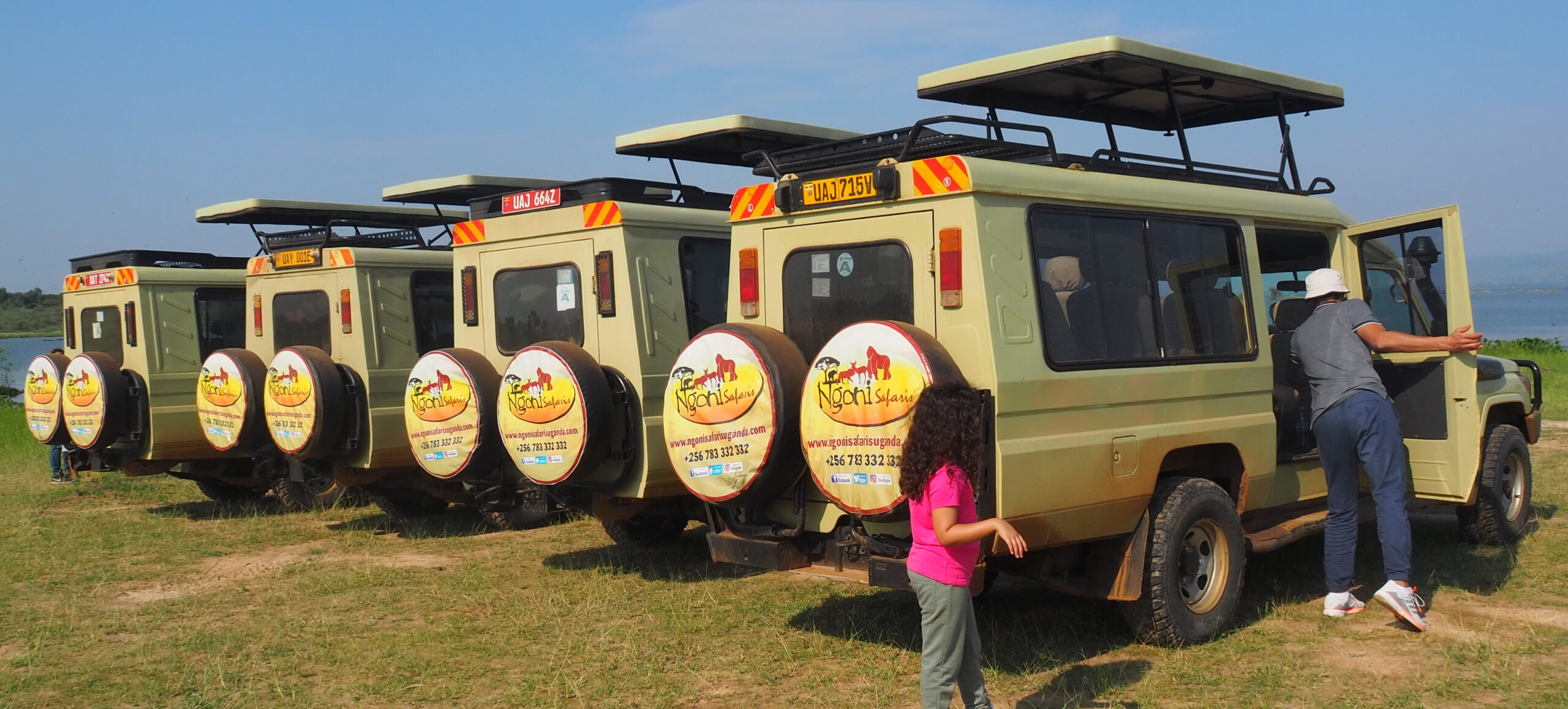 We believe in teamwork.
Teamwork is the ability to work together toward a common vision. The ability to direct individual accomplishments toward organizational objectives. It is the fuel that allows common people to attain uncommon results.