1. Pakuba Lodge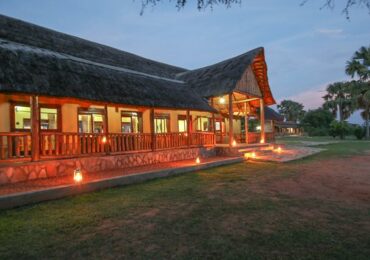 Pakuba lodge has its own individual style and charm, offering experiences that make it completely unique from any other property. We pride ourselves with high quality management and professional service, attention to detail, delicious culinary creations, prime location and offering first class activities.
We pride ourselves in our flair, style and creativity and place special emphasis on our guest's comfort. Our 46 spacious rooms are built on an elevated ground, with a balcony and sliding large windows to provide superb views of the river. All our guest rooms are en-suite bathrooms with running cold and hot water as well as a flush toilet. Beds are king size and fine linen has been carefully selected to ensure total comfort. Our aim is to provide our guests with the pleasure of being pampered in a home environment.
Our lodge chefs use fresh ingredients to prepare high quality meals and even home-baked bread. The chefs aim to produce healthy, balanced and enticing menus, and are happy to cater to your individual requirements.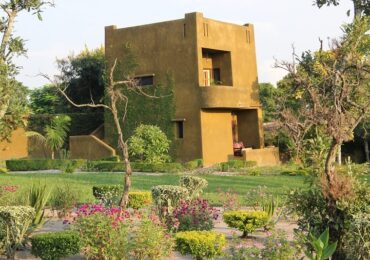 Set on the Eastern banks of the slow flowing Albert Nile, Fort Murchison revokes the idea of a well maintained isolated outpost from times where Arab traders frequented the African hinterlands and legendary explorers led expeditions in search of the source of the Nile. Built in the right spot and inspired by the historical background, Fort Murchison is unlike any other in Uganda. The massive tower, the earth colored walls, the touch of Swahili style… will impress you from your arrival up to your departure!
Fort Murchison offers a variety of comfortable accommodations to suit budgets from the mid to lower market, Be it in our beautiful rooms or our comfortable thatched tents a great value for money is guaranteed.
Fort Murchison is situated in the former Aswa Lolim Game reserve, just outside the northern park boundaries of Murchison Falls National Park. It is set in a beautiful surrounding and looks out on the majestic Albert Nile.
3. Twiga Lodge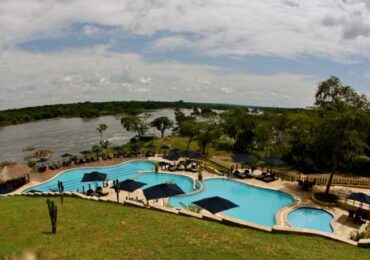 Twiga Safari Lodge is a mid-range lodge with 8 exclusive cottages situated on the bank of the river Nile in Mubaako Paraa opposite the Murchison falls National Park. The lodge is located at the heart of all the activities carried out in the park as it is a 5 minute drive away from the Paraa ferry crossing. Our guests are able to therefore enjoy a boat ride and or hike to the famous Murchison falls, sport fishing, bird watching at the lake Albert delta, and game drives through the national park across the river.
Twiga Safari Lodge aims at providing clients with comfortable accommodation in the serene and relaxing environment of Uganda's wildlife. On site, guests are able see some  monkeys and various birds freely moving through the grounds of the lodge.
4. Red Chili Lodge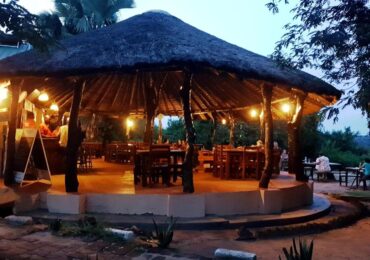 The hottest place to chill in Murchison! Red Chilli is superbly located to explore the largest National Park in Uganda. Situated in the heart of the park at Paraa, our camp is just 500m from the ferry, where all vehicles cross for Nile Delta game drives and from where boats depart for Falls & Delta trips. Sometimes you don't even have to leave the camp for game viewing though – hippo and warthog are regular visitors to the camp too!
We offer the only low to mid budget accommodation in the park, in furnished safari tents and bandas (small individual houses) with public or private bathrooms, as well as the only camping facilities with modern showers, toilets, cooking area and security lighting.
We are not a posh lodge with three course meals and all the trimmings but we do provide an authentic safari experience…and at a really great price!
5. Ikorom Lodge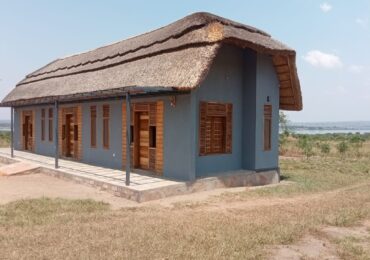 Ikorom safari lodge is situated in one of the most unspoiled areas of murchison falls national park, adjacent to the river bank. Ikorom safari lodge offers  ascenic view of the river , a view that one cannot ignore while on a safari to murchison falls.  The lodge strikes abalance between a midrange and budget accommodation  with 12 fully  operational rooms , fitted with the all amenties to make your experience at the park an amazing one.
6. Sambiya Lodge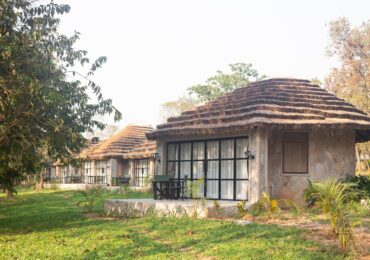 Sambiya River Lodge is a newly renovated midrange lodge situated only 15 minutes from the top of the magnificent Murchison Falls. It is the perfect location for those who want to experience the tranquility of unspoiled Africa, untouched by mass tourism. Sambiya River Lodge's unique charm is in the atmosphere of intimacy provided to the guests, surrounded by a vast number of beautiful trees. Guests stay in any of the 24 cottages designed as individual and family cottages which have en suite bathrooms, fans, screened doors & windows and a veranda to relax and enjoy the commanding views of quintessential Africa.
7. Chobe Lodge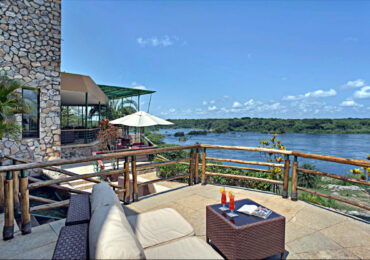 Located in the
Murchison Falls National Park
, this Five Star lodge is undoubtedly the gem in Uganda's crown of tourism destinations. The breathtaking panoramic views, coupled with the sounds of the River Nile's magnificent rapids, sets the scene for an adventure that will impress even the most discerning of visitors.
Chobe Safari Lodge offers a unique opportunity to sample the wildlife, birds, flora and fauna; all in an area of the park that has yet to be discovered. This area of Murchison Falls National Park is ideal for fishing, and will revive this newly refurbished lodge to become one of the best fishing destinations in Africa.
8. Tilenga Safari Lodge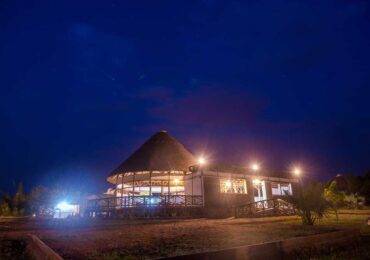 Tilenga Safari Lodge features 13 elegant guest cottages with pleasant facilities and 2 luxury tents designed to offer sophisticated tranquility. The River Nile and the park are the main focus from an architect's perspective and so all the cottages and luxury tents have balconies and terraces facing the magnificent sweeping views. Having one's breath taken away by these delightful views is a guarantee here at Tilenga Safari Lodge.
Tilenga Safari Lodge is set on the northern park boundaries of Murchison Falls National Park.
It is located in one of the most breathtaking parts of Uganda just 1.7km away from Tangi gate on the main Karuma-Pakwach road.
One has to watch out for its signpost a few kilometers before the Pakwach Bridge to not miss the magnificence of a place that looks out on the majestic Albert Nile.
9. Para Lodge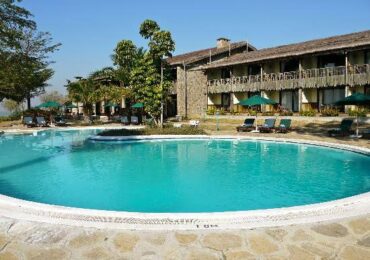 Established in 1954, Paraa Safari Lodge is in Murchison Falls National Park. The lodge is located in the north west of Uganda over looking one of nature's best kept secrets, the River Nile, on its journey from its source at Lake Victoria to join Lake Albert – here it is suddenly channeled into a gorge only six meters wide, and cascades 43 meters below.
The earth literally trembles at Murchison Falls – one of the world's most powerful flows of natural water. Paraa Safari Lodge offers a unique blend of comfort, relaxation and adventure. Each of the rooms is a haven of style and serenity, complete with balcony and private bathroom.
10. Nile Safari Lodge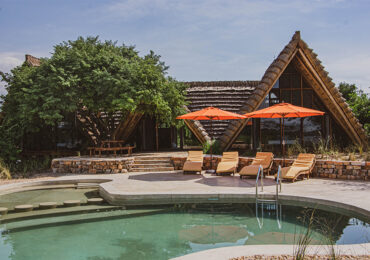 Nile Safari Lodge is a wholly owned family lodge, started in 2017 with a long-term dream of creating and offering a unique experience to the Pearl of Africa. To share the beauty of the region we grew up in and hold very close to our hearts. Our purpose and drive is to offer experiences and memories that enables our guests to "Escape the ordinary".
Our lodge is designed to be minimally intrusive, with sweeping views of the surrounding landscapes, as well as total exclusivity. Our furniture and fittings have been carefully selected to blend the boundaries between inside and outside, creating a seamless integration with nature while upholding the comfort, aesthetics and durability. We pay very close attention to every small detail while trying to be one with the environment. As a family we care about the footprints we will leave on this earth and therefore we hold this project close to our hearts to conserve and preserve the natural environment and the beauty that comes along with it.
BOOK YOUR TRIP WITH US NOW