When going for a safari in Uganda, the kind of safari vehicle you use contributes a lot to your overall experience.
There are three main types of Uganda safari vehicles used by Uganda Safari Travel Agencies.
These include 4×4 safari land cruisers, safari vans, and overland safari trucks (campervans and motorhomes).
There are also smaller safari cars used for airport and hotel transfers and short excursions, especially within Kampala.
The right vehicle to use is influenced by several factors, including the destinations you want to visit, your budget, the experience you are looking for, and the number of people in your group.
If you are on a tight budget, the safari van is the best option.
However, if you want a classic African safari experience, a 4 x 4 land cruiser safari is the best option.
Note that both the safari van and the 4×4 safari land cruiser are designed to accommodate a maximum of 7 people.
Each with a Window seat and open roof for optimal game viewing.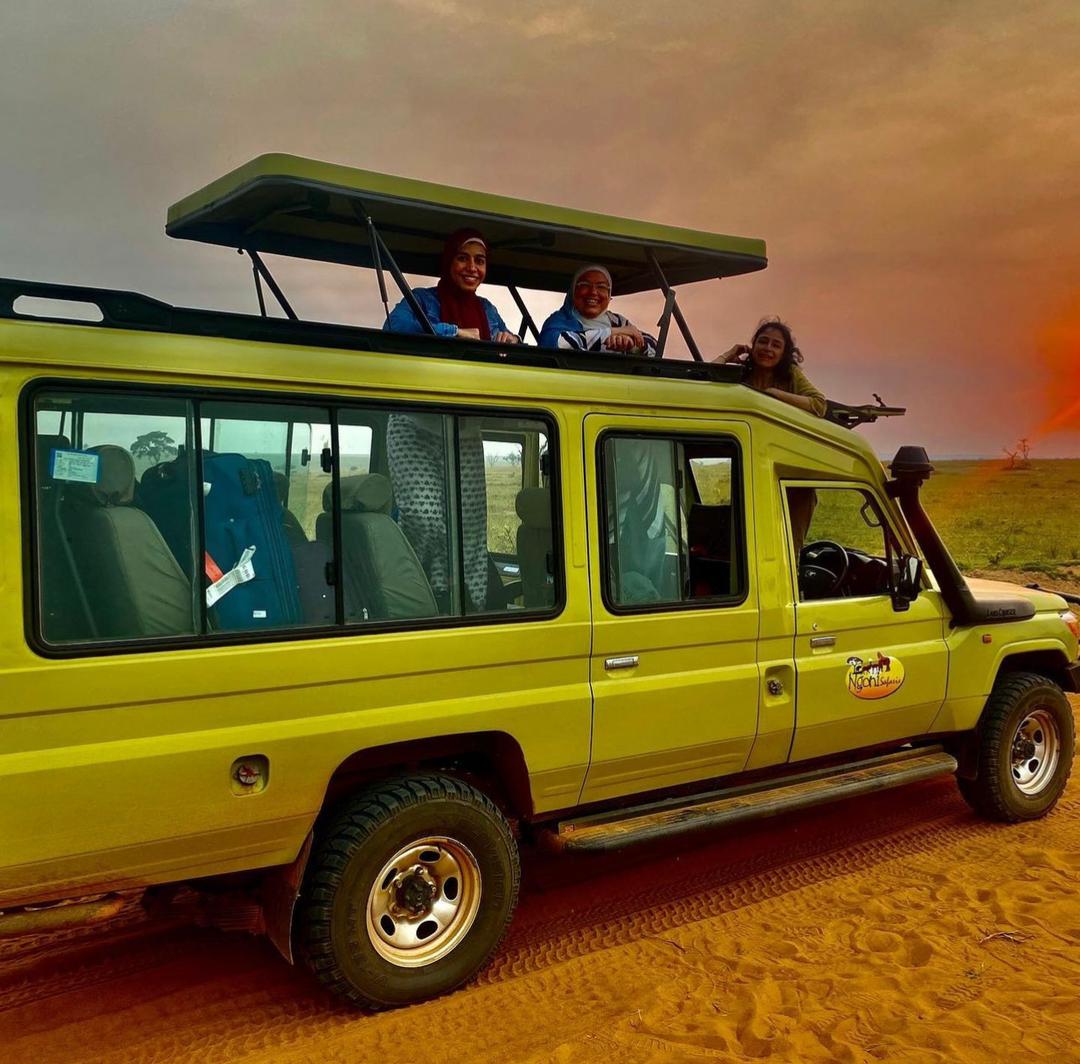 Our 4×4 safari land cruiser during game drives at Murchison falls national park.
Uganda Safari Vehicles – 4×4 Safari Land Cruiser
The Toyota Land Cruiser is the most luxurious African safari vehicle that you can use.
It adds to the Uganda Safari Cost anything from $250 – $350 per day including fuel and everything else.
You can get the 4×4  safari Landcruiser at lower rates, but usually, these would be older vehicles.
Also, the vehicle might be cheap upfront, but the driver will end up using tricks to save on fuel consumption.
Hence the lower rate.
For instance, if he is sent a notification on the UHF radio call that a pride of the lion has been spotted far from where you are, he might ignore it at your loss.
I know you get the drift here, cheap is expensive.
Other than being a 4×4, which is quite important for challenging road conditions that might be encountered in some parks, the land cruiser is more comfortable than the safari van and safari trucks.
It is also able to access parts of the park that can not be accessed by other vehicles.
Note that these vehicles, since they are fully opened, aren't used for the transfer from destination to destination.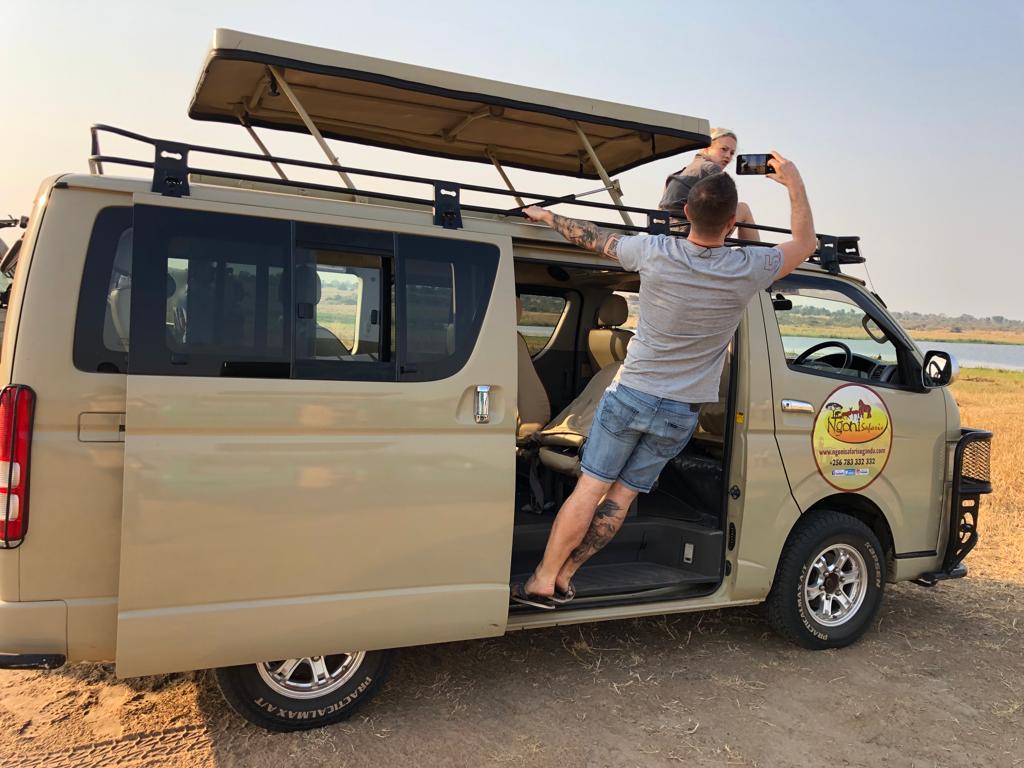 Ngoni Safari Van
Once at the camp, some 4×4 safari land cruisers especially those used by professional photographers, are designed for the glass windows to come off and be replaced with a canvas cover that rolls up and down.
We normally use this type of safari car for game drives.
In general, most safari land cruisers have 6 -7 individual seats, although some tour companies have custom safari vehicles for 2 or 4 people only.
The typical 7-seater has two seats at the front, two in the middle, and three at the back, including one extra place next to the driver.
This allows enough space in the middle for the camera set up or a cooler box.
The safari land cruiser also has a pop-up roof to allow for maximum game viewing and photography.
If the windows do not come off, they will be large and will slide open to allow for good views.
Most 4×4 safari land cruisers are customized to ensure a window seat for 7 passengers.
There is good space at the back for bigger luggage and under the seats for small day backpacks.
The safari vehicle is also fitted with a UHF radio call, an important feature that allows the driver to communicate with other drivers during the game drive.
This allows them to share information on the spots with interesting happenings such as a hunt or the siting of elusive animals such as the leopard.
Most 4 x 4 safari land cruiser vehicles are air-conditioned in terms of comfort, have ports for charging phones/ electronics, Wi-Fi, a music system, and a fridge or cooler box to preserve drinks.
Some may have custom shock absorbers to minimize the well-known 'African massage" (bumpy ride on bad roads).
Most land cruisers have two fuel tanks to ensure continuity during game drives and two spare tires to mitigate incidences of getting a flat tire that may happen in the bush.
Uganda Safari Vehicles – Safari Mini Van
The safari minivan is typically a Nissan or Toyota-made vehicle such as the Toyota HiAce van or similar.  Like the land cruiser.
It is customized for Uganda Safari Holidays, and the most prominent feature is the pop-up roof designed to allow for maximum game viewing.
Typically, a safari van is modified to a maximum of 8 comfortable seats that allow for extra legroom, but in most cases.
The windows are also designed to slide open allowing for game viewing and photography.
Generally speaking, the safari minivan is cheaper than the 4*4 land cruiser in terms of price, but this is not bad.
While the land cruiser can navigate trickier road situations, there are a few places that the minivan cannot go, except for known off-road terrain that is difficult to navigate.
If you are going to the normal national parks and not for an expedition on treacherous roads, the choice of which safari vehicle to go for mostly boils down to individual preferences and budget considerations.
The safari car is fitted with a cooler, port for charging phones, and increasingly Wi-Fi which is only useful in good network connectivity.
Like the land cruisers, the safari van is also equipped with radios to enable the driver to communicate with other vehicles during the game drive.
Ajugandasafaris.com safari Landcruiser in Samburu game reserve
Uganda Safari Cars – Overland Truck
The overland safari truck is an exciting safari car to use during your tour.
Overland trucks are ideal for longer trips, such as across different countries with large groups of people, typically between 12 and 30.
Given these dynamics, overland safari trucks have to be well customized with enough space to carry luggage and required equipment and maneuver different types of terrain.
As with other safari cars, overland trucks are modified to different specifications, and the vehicle to be used will depend on the dynamics of the group using it.
The seating in an overland truck varies. Some trucks have seats in a line on both sides, facing inward.
Other trucks have seats facing forward, yet other trucks have a mix of front and backward-facing seats.
Regardless of the design, all seats are raised to allow for maximum animal viewing experiences and well-padded extra comfort.
The overland safari truck has large windows that either slide open or rolls up allowing for excellent photo-taking opportunities.
Some overland trucks may have a pop-up roof to maximize the viewing experience.
Because Safari on an overland truck is typically for an extended period, it comes fully equipped with a 'kitchen section.
Among the staff is a cook who will prepare meals during designated stops in the safari, although larger groups on the road for long will likely assist by cooking in turns.
Kitchen equipment is stored in a compartment beneath the seats and includes stoves, food, cutlery, and washbasins.
They are also fitted with a means of refrigeration such as cooler boxes for perishable foods and drinks, foldable stools, a table, water tanks, and a tent to act as the cooking area.
If you are taking an overland safari truck, you are likely to be on a camping safari.
The truck has enough storage to carry sleeping tents, sleeping bags as well as personal luggage.
In general, most overland safari trucks will have mobile phone and camera charging ports, overhead lockers to store cameras, and day bags.
They come fitted with a buzzer system to alert the driver when a stop is required, long-range fuel tanks, a safe for valuables, and a comprehensive first aid kit.
Some models even have an onboard library to keep you busy when not much is happening outside.
African Safari Vehicles – Transfer Shuttles
Shuttle safari cars refer to vehicles that are used to transfer guests from one point to another, such as from the airport to your hotel, but not used for the safari activity.
Shuttles may also be used for short excursions in the vicinity of the city.
They vary in size depending on the number of people and the luggage they have.
For example, two guests might require a small 5-seater saloon car, while 5 guests might require a bigger 7-seater safari car.
More than ten people might require a minivan or a bus and so on.
Your tour company will have organized the appropriate airport pick-up based on your group numbers.
Why Should You Book Your Safari Car and Package With Us?
We are a team of local safari experts looking to use our experience to help plan your dream 4×4 safari in Uganda.
As part of our service, we:
Act as your tour guides/ interpreters in Uganda
Offer airport pick up and drop off
Give you safety Uganda Safari Tips to ensure your safari is safe and enjoyable.
Answer any questions you might have about your safari at any time
Give you the safari car of your choice at discounted prices.
Register a sim card for you as soon as you arrive in the country
Why don't you contact us now and Book a Safari?