Despite its compact size, Uganda doesn't lack in tourist attractions. Not only can you come within meters of a gorilla family, there are opportunities for boat trips on the Nile, volcano hikes, seeing the Big Five on savannah plains and watching chimps in dense rainforest.
Wondering what to do in Uganda? There are countless points of interest in this beautiful country. Aside from several popular destinations, there are many off-the-beaten-track places to visit in Uganda too. To get you started, here are some of the best things to do in Uganda.
1. Boating in Murchison Falls National Park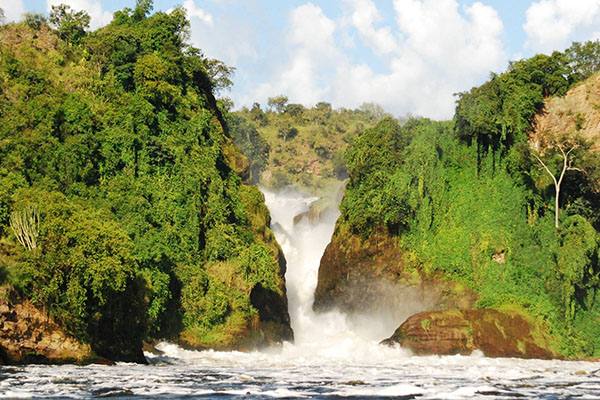 Murchison Falls in Uganda
Take a boat trip east on the Victoria Nile to Murchison Falls. You'll see plenty of wildlife along the way; hippo by the hundreds, massive croc, and the possibility of elephant, buffalo, giraffe and acrobatic black-and-white colobus monkey swinging in the trees. The falls are the real highlight though. Imagine the explosive force of the wide Nile being pushed through a small narrow cleft in the Rift Valley escarpment. Sit back and enjoy the sunset with a drink in hand while cruising back.
2. Gorilla trekking in Bwindi Impenetrable National Park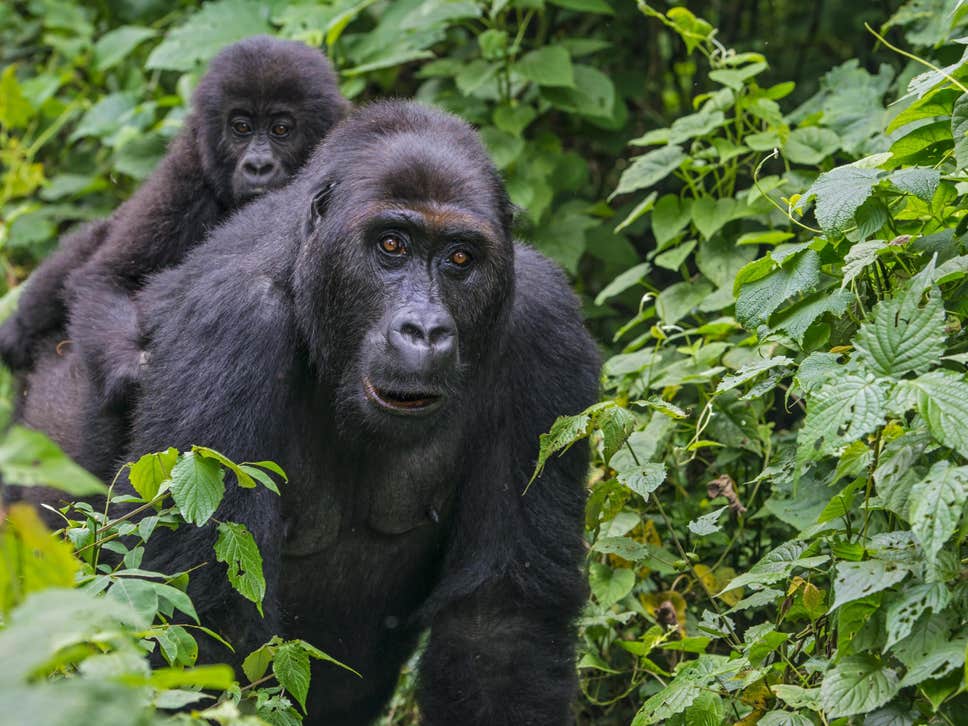 Mountain Gorilla mother with baby at Bwindi Impenetrable National Park in Uganda
Treat yourself to a gorilla trek, rated as one of Africa's most exhilarating wildlife encounters. The long hike through dense rainforest on slippery slopes, the relatively high price…it's all worth it. Spending time with these gentle giants is a spine-tingling experience you'll never forget.
3. Looking for shoebills on Lake Albert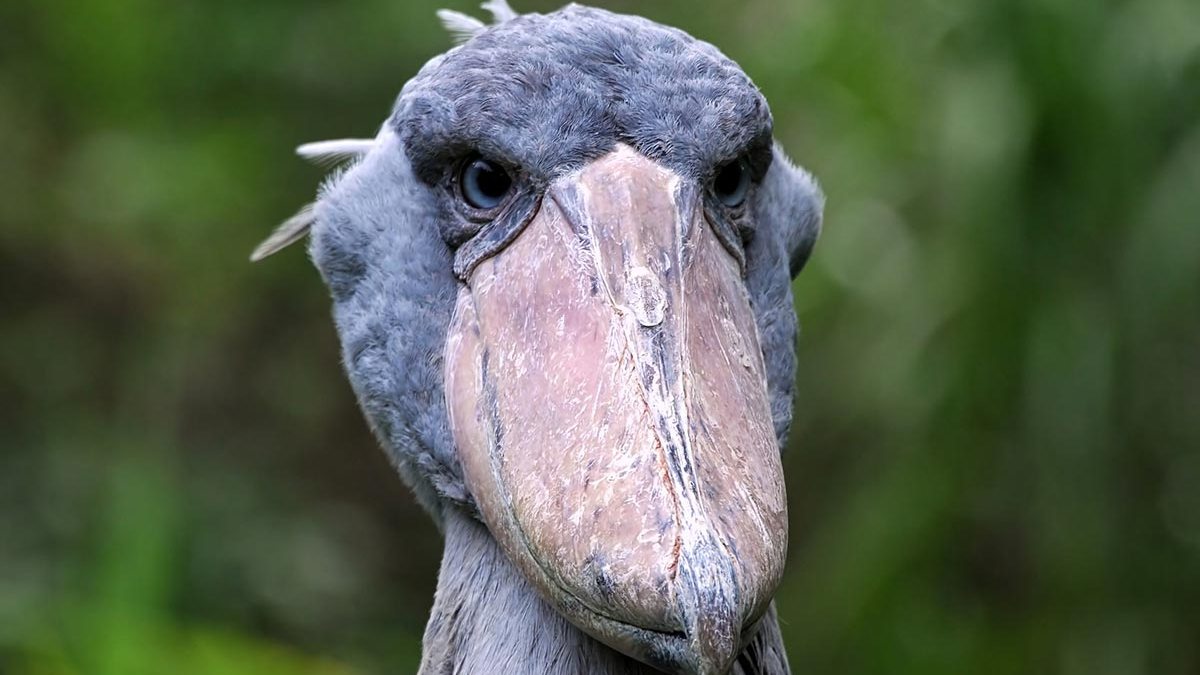 Shoebill Stork
Take a boat trip on Lake Albert when staying at Toro-Semliki Wildlife Reserve. This Rift Valley lake teems with birds, but the ultimate prize is a glimpse of the odd-looking shoebill. You'll probably get more than a peek. Sightings of this rare bird, resembling something from the dinosaur era, are excellent here.
4. Chimp trekking in Kibale National Park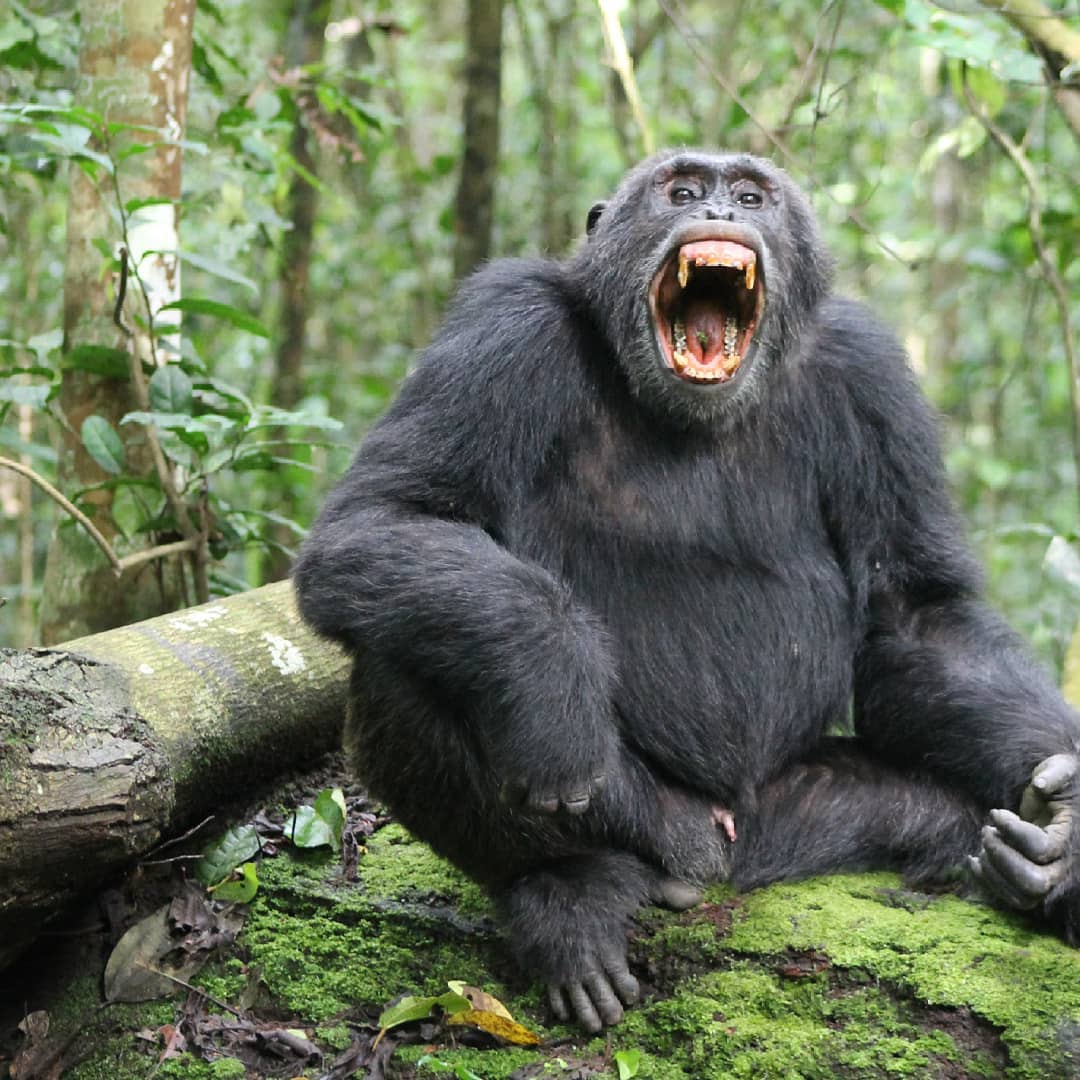 Chimpanzee
Let the trackers lead you into the jungly depths of Kibale Forest in search of chimpanzee. The habituated Kanyantale community consists of more than 90 individuals. You'll get to spend a magical hour watching them groom, eat, sleep, nurse, play or patrol (good luck keeping up with them). If you didn't know it before, you'll figure it out now: there is no doubt about who our closest relatives are.
5. Climbing Mt Sabyinyo in Mgahinga Gorilla National Park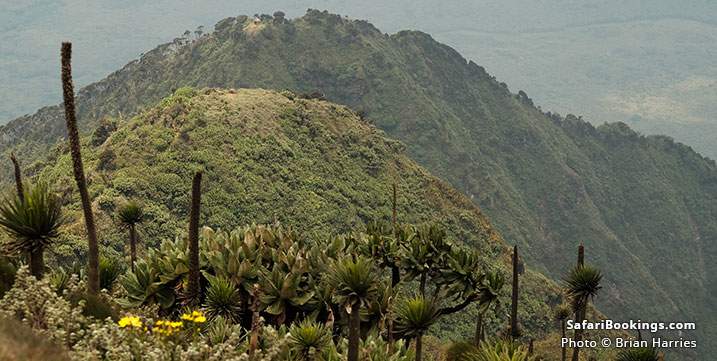 Three Peaks Mount Sabyinyo
Challenge yourself with a volcano hike in Mgahinga Gorilla NP. The park is located in the Virunga Mountains, which are dominated by several volcanic mountains. Tracking mountain gorilla is the number one activity here, but adventure enthusiasts shouldn't leave before conquering one of the peaks. The ascent of Mt Sabyinyo takes you through mystical alpine vegetation, often shrouded in mist. The 3,669m summit is located at the tri-border point of Uganda, Rwanda and Democratic Republic of Congo (DRC). How cool is that?
6. Tracking rhino in Ziwa Rhino & Wildlife Ranch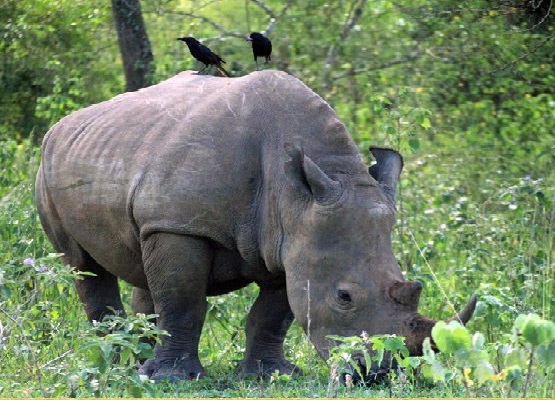 White Rhinos
Get up close to Uganda's only rhinos in Ziwa Rhino & Wildlife Ranch. Watching these prehistoric-looking heavyweights on foot is a thrilling experience. And since proceeds go toward breeding and ultimately reintroducing rhino into Uganda's parks, visiting this popular destination is a must.
7. Finding tree-climbing lion of Ishasha in Queen Elizabeth National Park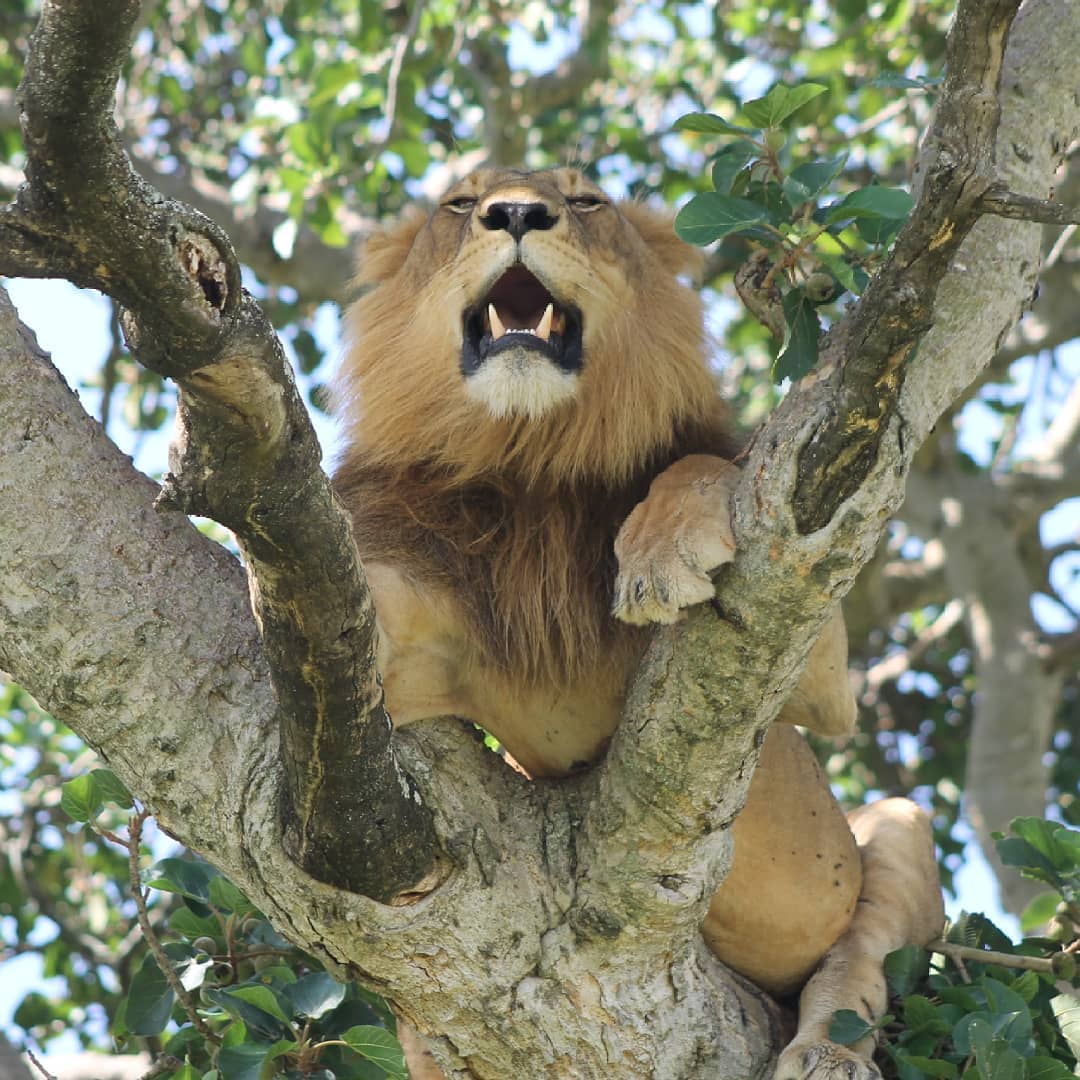 Male lion sitting in a tree
Spotting a lion, the king of the savannah, is always a treat. But can you imagine seeing the biggest, and possibly most clumsy, of the big cats perched high up in a tree? In the Ishasha sector of Queen Elizabeth NP, big prides reliably spend their days in ancient fig trees. They look quite comfortable, too. That is, until they want to come down. Let's say, you won't confuse any of them with a graceful leopard.
8. Going on a night drive in Lake Mburo National Park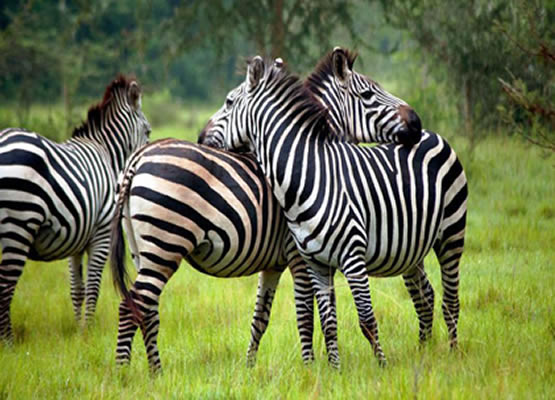 Let your gaze follow the tracker's spotlight in search of creatures that are active at night in Lake Mburo NP. Under the cover of night, the bush takes on a different character. You might spot genet, bushbaby, nightjar and perhaps a leopard, the most secretive of the big cats.
9. Traveling north to Kidepo Valley National Park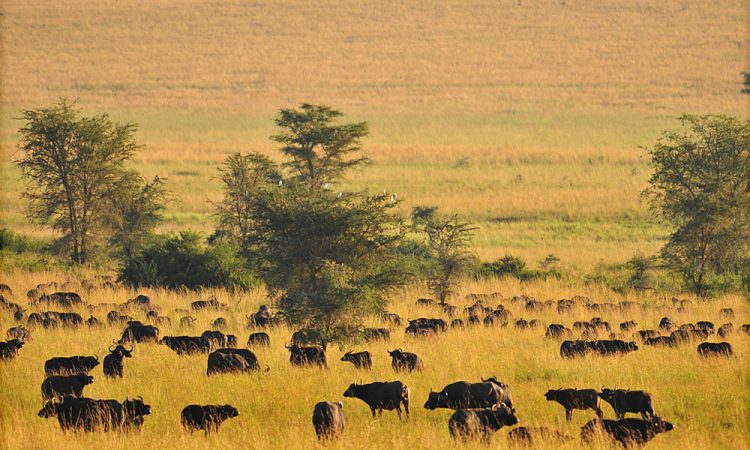 Travel off-the-beaten-track to the true wilderness of Kidepo Valley NP. The plains, surrounded by rugged mountains, are teeming with wildlife, and you might not see another car on a three-hour game drive. A road trip through the tribal Karamoja region to get here is a whole adventure in itself.
10. Chilling on the shore of Lake Bunyonyi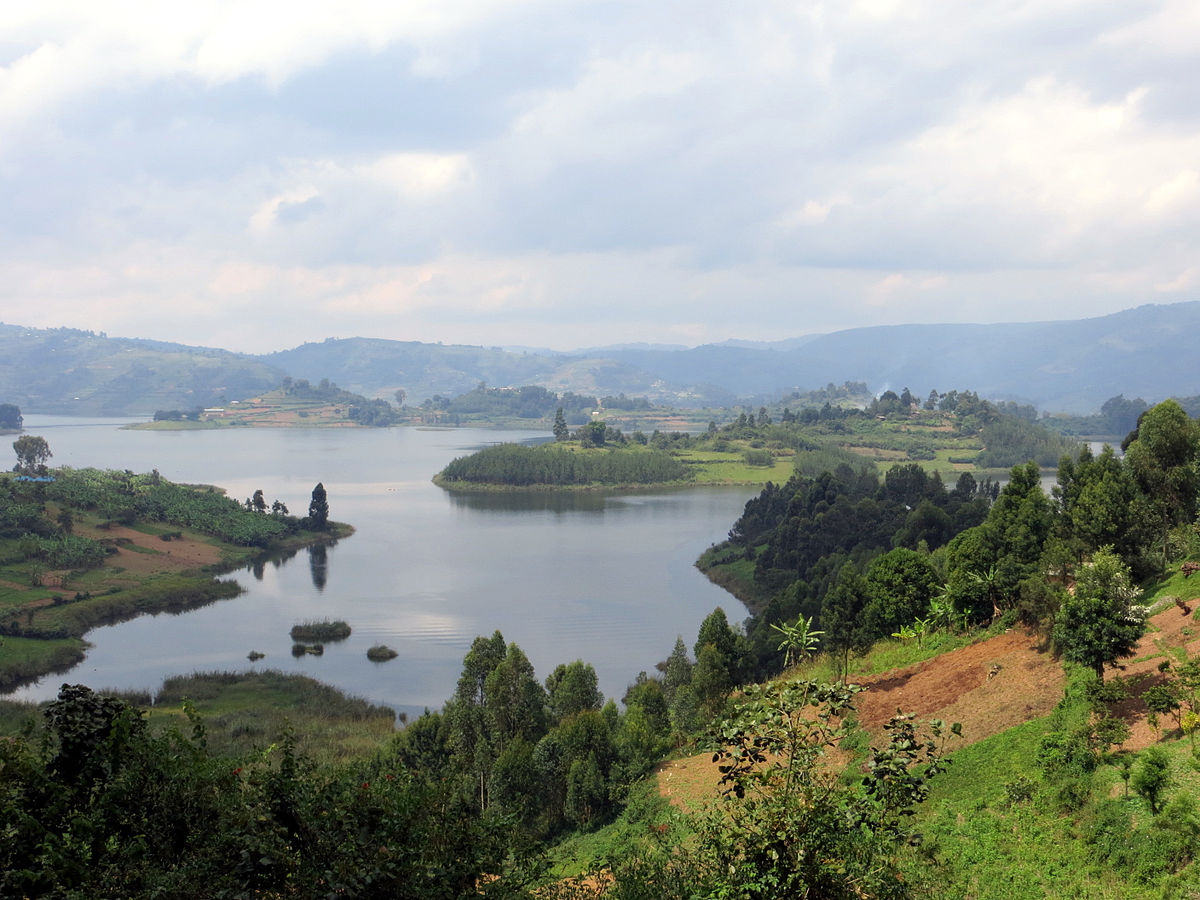 Boat on the shore of Lake Bunyonyi
When considering things to do in Uganda don't forget scenic Lake Bunyonyi, where you can kick back, hang out and do nothing at. With so many points of interest and places to visit in Uganda, there is a danger of never slowing down. If you want to chill for a couple of days before or after a gorilla trek, Lake Bunyonyi is the perfect place to do it. If you do get restless, however, there is plenty of opportunity for hiking, swimming, chatting to the villagers and even paddling a dugout canoe.