UWEC unveils tigers
The Uganda Wildlife Conservation Education Centre (UWEC) has unveiled a pair of Tigers that were shipped into the country nearly eight months ago.
The pair, which comprises a male and female tiger, has ever since, been undergoing institutional quarantine and medical examination until they were deemed fit to occupy their holding facility. Dr. James Musinguzi the UWEC executive director noted that Uganda becomes the first East African country to accommodate tigers.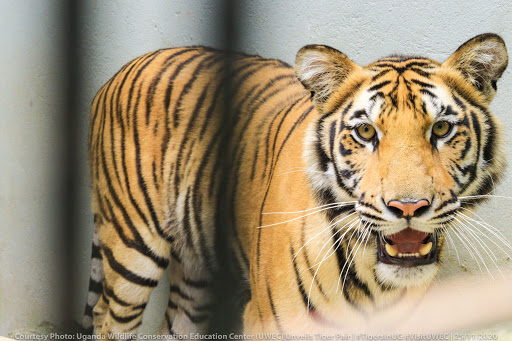 According to Dr. Musinguzi, tigers, which are the largest members of the cat family, last existed in Uganda, in the 1970s. He further stated that conservation is a global noble cause whereby, even though animals such as tigers do not exist in Africa, it is incumbent for conservation bodies like UWEC, to educate the people on how to conserve such animal species.
"Over the last century, subspecies of tigers have dwindled from eight to five due to hunting and logging. Therefore, this pair is a don of hope which fulfills our conservation roles of education, research, and recreation," expressed Dr. Musinguzi.
It was revealed that the pair of tigers which were from South Africa, was exchanged for 25 monkeys from Uganda. "We just met their shipping fee of US$2,000 from South Africa to Uganda," intimated Dr. Musinguzi. The two tigers which are yet to be christened, consume 10kg of meat every day, putting their feeding cost at Sh150,000 daily.
Meanwhile, David Musingo the UWEC manager in charge of education programmes said, the centre is looking forward to introducing other species of exotic animals such as Kangaroos for conservation education purposes. He re-echoed the government's commitment to set up satellite Zoos in different regions across the country. "We have done visibility studies, and are going to start with one satellite zoo in Mbale next year, which is estimated to cost Sh12b, to be followed by another in Fort Portal, Mbarara, and other regions," noted Musingo.
About tigers
Tigers are territorial, generally solitary but social animals that only survive in Asia's wild. Everywhere else in the world, tigers are kept in captivity. As of 2015, the global wild tiger population was estimated to number between 3,062 and 3,948 mature individuals. The Tiger has a muscular body with powerful forelimbs, a large head, and a tail that is about half of its full body.
Male tigers vary from the total length from 8ft-12ft and weigh between 90kg-300kg. Females have a total length ranging from 6ft-9ft whereas they weigh 65kg to 167kg.
Credit: By Julius Luwemba