Book customized day gorilla trekking tours to Uganda, Rwanda, and Congo with Gorilla Trek Africa the leading travel agent in East and Central Africa. Book exceptional gorilla safaris to Bwindi forest, Mgahinga gorilla, Virunga, and Volcanoes national park for a close encounter with the world's renowned mountain gorillas in their natural habitats. Besides gorilla tours, we immerse you with memorable Africa holiday experience. We help you explore the natural beauty, sunny weather and stunning environment in Africa at affordable rates with unparalleled value. Venture further for chimpanzee trekking, bird watching, and mountain climbing to make your African safari a complete package.
We further offer you useful travel information about what to pack for gorilla trekking, best time to trek gorillas, age limit,when to book for gorilla permits and give answers to all faqs on gorilla safaris in Africa.   With 15 years experience in offering memorable gorilla trips, a game viewing tours with Gorilla Trek Africa guarantees you a memorable experience. wildlife safaris across Africa perfectly tailored to fit your interests to ensure you have a successful and enjoyable African safari holiday.
Gorilla Trekking Questions
Detailed answers to all gorilla trekking questions with Gorilla Trek Africa, the number one travel company in Uganda, Rwanda and Congo
• What is gorilla trekking
The experience is all about getting up close with the endangered mountain gorillas in their natural habitats. Gorilla trekking entails all day search and interaction for mountain gorillas. The encounter is reviewed as magical and the most wonderful wildlife experience in the world.
• What are the trekking rues and regulations?
At the start of each gorilla trekking day, travelers are introduced to gorilla trekking rules and regulations to ensure safety of the endangered gorillas and travelers in the jungle. The do's and don'ts of gorilla trekking include
1. Keep a distance of seven meters away from gorillas
2. Do not trek gorillas when sick
3. Do not throw rubbish in the jungle
4. Keep within your groups
5. Speak at low tone
6. Do not touch the gorillas
7. Avoid direct eye contact with gorillas'
8. Avoid flash light cameras
• Where to go for gorilla trekking
Gorilla trekking is done in Uganda's Bwindi forest and the Virunga conservation area shared by Mgahinga, Volcanoes and Virunga national parks in Uganda, Rwanda and Congo respectively. You can choose to trek gorillas in any of the three destinations or do a combined gorilla safari to all gorilla parks for accurate comparisons and exceptional experience.
• Cost of gorilla permits in Rwanda
A single gorilla permit in Rwanda costs $1500 paid by all travelers regardless of one's nationality. Rwanda gorilla permits are bought from Rwanda Tourism Board or through Gorilla Trek Africa Limited.
Due
• Cost of gorilla permits in Uganda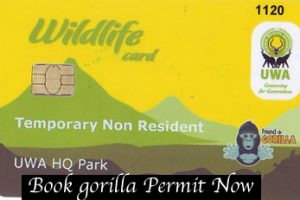 The cost of Uganda gorilla permits varies depending on one's nationality. A single gorilla permit to Bwindi/Mgahinga costs $600 for foreign non-residents, $500 for foreign residents and 250,000shs for east African residents. All permits are bought direct from Uganda Wildlife Authority (UWA) or through Gorilla Trek Africa.
• Cost of Gorilla permits in Congo
Congo gorilla permits cost $450 each to visit gorillas in the Virunga national park and eastern lowland gorillas in Kahuzi Biega national park. Gorilla Trek Africa helps you secure and reserve Congo gorilla permits at a relatively low cost. Due to high demand for gorilla permits, travelers planning gorilla trips are reminded to book for gorilla permits as early as 6 months before the trekking date. Also, you are required to pay 30% booking fee to secure the permit and avoid any disappointments.
• Is gorilla trekking safe?
YES, gorilla tracking in Uganda, Rwanda and Congo is safe and done all year round. Respective governments have deployed tourism police
in all gorilla parks to ensure safety of endangered mountain gorillas and travelers in Bwindi, Mgahinga, Volcanoes and Virunga national parks. Also, mountain gorillas have been habituated hence pose no harm to travelers.
• What if I fail to see mountain gorillas?
The possibility of seeing mountain gorillas is 99.9 if not 100%. Early in the morning, park rangers and trackers hike into the jungle before clients to trace the where about of gorilla families. They then give directions to travelers on where gorillas are located. In case you fail to see gorillas after a full day of trekking, you are given a second chance to trek gorillas in the next day.
• What to wear for gorilla trekking
Endeavor to dress right for the jungle. The recommended attire for gorilla trekking include among others: Ensure to include the gorilla trekking packing list.
1. Hiking boots for easy hiking
2. Gardening gloves
3. Rain jackets for the unpredicted forest weather 4. Sun glasses
5. Hat
6. Long sleeved shirts/ blouses
7. Long pants among others.
Dressing right for the jungle is one the key essentials for a successful gorilla encounters.
• Should I carry packed lunch?
Yes, travelers are given packed lunch while going for gorilla trekking. This entails energy giving snacks, fruits and drinking water to keep you strong during hiking.
• Uganda Or Rwanda? Which one is best for gorilla trekking
How best is gorilla trekking experience in Uganda or Rwanda depends on the client. Each gorilla destination is unique in its own kind offering exceptional gorilla encounters. Travelers are therefore advised to trek gorillas in both Uganda and Rwanda to have better comparisons.
• How many gorillas are living?
According to the 2018 gorilla census, there are 1004 mountain gorillas in Bwindi forest and Virunga conservation area. These gorillas have been habituated into 36 gorilla families altogether. 17 gorilla groups live in Bwindi forest, 10 gorilla families in Volcanoes, 8 in Virunga and 1 in Mgahinga gorilla national park. Also, two gorilla groups of Kutu and Bikingyi are still undergoing habituation experience in Rushaga sector of Bwindi forest national park.