Coronavirus has become an issue and a talk for all people all over the world to ensure safe and epidemic free Uganda safaris. Thousands of people have dies since the outbreak of the epidemic in December 2019. China was the first country to report the outbreak but the epidemic has so far spread in 6 more countries. The deadly epidemic has shaken the whole world, turning all economies upside down including the travel and tours industry. It's undeniable that mots trips have been canceled while others are being postponed due to fear of this deadly epidemic. Whereas Uganda is still free from Coronavirus, Measures are being taken to prevent the spread of this deadly disease. Uganda Tourism Board has issued travel guidelines to all travel operators in Uganda and those travelers intending to visit the pearl of Africa on how they stay safe CoronaVirus. The new guidelines mainly apply to travelers from the already affected countries, which are Iran, Italy, China, South Korea and Japan. In Uganda's effort to curb and prevent the spread of Coronavirus, Uganda Tourism Board is reconsidering travel at this time.
1. A 14 Days isolation process is a MUST for travelers from all countries affected with CoronaVirus. These people will undergo daily monitoring by the ministry of health for 14 days to ensure they are in good health state.
2. More so, all travel operators, tour agencies, hotels, and lodges have been asked to provide hand-washing facilities at their premises. These include water, jick, and soap. This policy also applies to onboard travel vehicles, bus terminals, and vessels.
3. Travel agencies and accommodation facilities are encouraged to keep a full stock of N95 masks for the clients. The client's mouth Must keep masked to prevent any risk of catching the virus.
4. Also, travelers visiting Uganda are also encouraged to carry their own recommended N95 Masks to be safer.
5. Travel Agencies are requested to educate their staff on preventative measures for the mitigation of contracting the deadly CoronaVirus.
6. In addition to Uganda Tourism Board advisory policies, President Museveni advised Uganda to stop handshaking as a precaution. Health ministries report that handshaking is one of the ways in which Coronavirus spreads.
7. More so, President Museveni urged whoever gets any symptom of Coronavirus to do a self-isolation (Quarantine) from the rest of the people so as to seek medical services.
Uganda Wildlife Authority travel Advisory on Minor Changes due to Coronavirus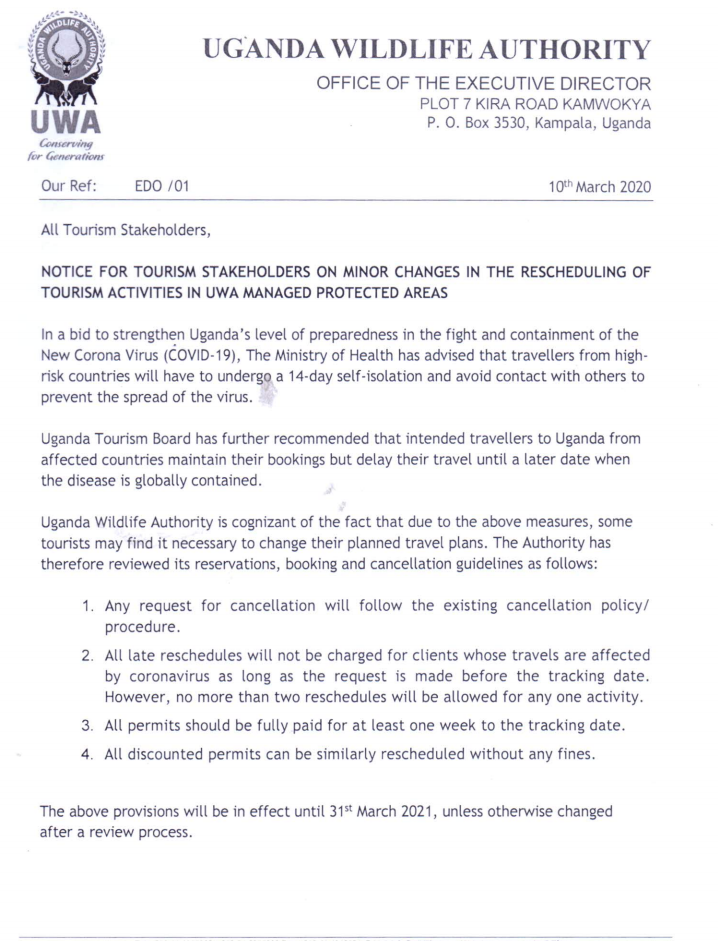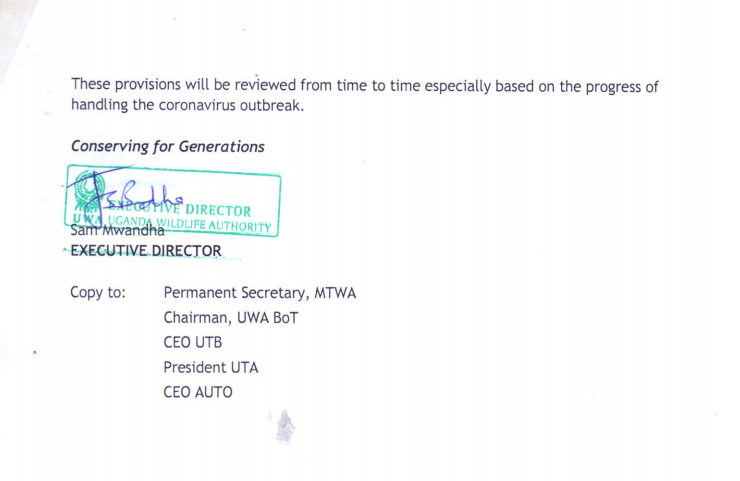 The outbreak of Coronavirus is an international health emergency that calls for everyone's effort and concern. Keep safe, exercise all travel advisories and let's work together to see this epidemic kicked out of the world.