Bwindi is the heart and soul of Ugandan birding, the make-and-breaker of bird lists and the home of many endemic and rare bird species. This forested heaven boasts about 350 species, including 23 Albertine Rift endemics of which 14 are not recorded anywhere else in Uganda.
The forest trails around Buhoma are ALIVE with opportunity as you stand your best chance to catch a glimpse of olive long-tailed cuckoo, bar-tailed trogon, dusky tit, Abyssinian (Kivu) groundthrush, white-bellied robin-chat, equatorial akalat, grey-chested iladopsis, red-throated alethe, white-bellied crested flycatcher, white-eyed slaty flycatcher, the enigmatic Chapin's flycatcher, white-browed crombec, Neumann's warbler, black-faced prinia, handsome francolin, Jameson's antpecker, black-faced rufous warbler, northern double-collared sunbird, Willcock's honeyguide, black bee-eater, black-billed weaver, magpie mannikin and newly described Willard's sooty boubou.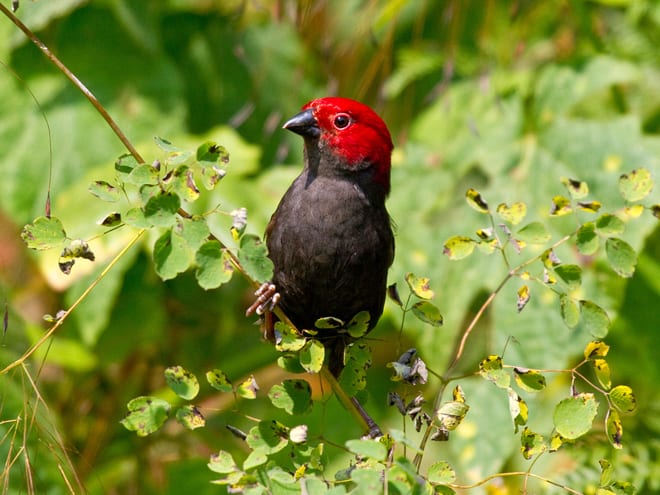 Transitional areas such as "The Neck,' between Buhoma and Ruhiza are popular areas to look out for black sparrowhawk, western bronze-naped pigeon, cinnamon-chested bee-eater, Cassin's honeybird, Petit's cuckooshrike, white-chinned prinia, mountain wagtail, pink-footed puffback, the rare tiny sunbird and the dapper brown-capped weaver.
Away from the indigenous forests, amongst pioneer vegetation fringing the tea estates you can strike it lucky with the highly sought-after dusky twinspot, yellow-bellied, Kandt's and black-crowned waxbills, streaky and thick-billed seedeaters, western citril and yellow-crowned canary, noisy Chubb's cisticola, alert Mackinnon's shrikes, and with luck marvel at a sigh of the striking Doherty's bushshrike.
Ruhija is your next hotspot in Bwindi, and although the walk down to Mubwindi Swamp is not for the faint-hearted, this is an obligate pilgrimage for the serious birder, since it is down there that resides the MOST coveted of Bwindi's Albertine Rift endemics …. the rare and localised Grauer's broadbill, one of Africa's most sought-after birds. This globally threatened species is only known from two sites in the world, the other being a remote forest in eastern DR Congo.
Other species to watch out for in Ruhija include Carruthers's cisticola and the localised Grauer's swamp warbler, red-chested flufftail, black-billed turaco, barred long-tailed cuckoo, white-headed wood-hoopoe, western tinkerbird, olive woodpecker, thick-billed and the elusive dwarf honeyguide, black saw-wing, grey cuckooshrike, olive-breasted and yellow-streaked greenbuls, Abyssinian thrush, white-starred robin, Archer's ground-robin, stripe-breasted tit, mountain illadopsis, Rwenzori hill-babbler, mountain masked, Rwenzori, and chestnut-throated apalises, cinnamon bracken, mountain yellow, red-faced woodland and Grauer's warblers, white-tailed blue flycatcher, yellow-eyed black flycatcher, Rwenzori batis, mountain sooty boubou, the rare Lagden's bushshrike, Sharpe's starling, mountain oriole, strange weaver, and oriole finch. Flowering symphonias attract the incredible blue-headed, regal and scarce purple-breasted sunbirds, all highly desired Albertine Rift endemics. Dusky, red-faced and the phantom-like Shelley's crimsonwing occur here too.
As the sun sets, Ruhija offers your best-bet Rwenzori Nightjar, African wood owl, and if you are exceptionally fortunate, the rare Fraser's eagle-owl.