Kenya has become the latest African country to announce dates for the resumption of scheduled flights, amid reports that its flag carrier plans to make job cuts ahead of a possible nationalisation.
The Kenyan government says domestic flights will be allowed to resume on 15 July and international services on 1 August.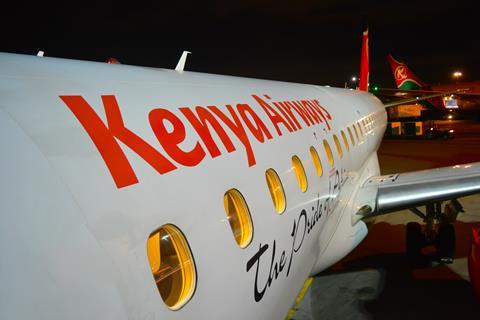 Its move to reopen comes after the Nairobi Securities Exchange on 3 July suspended trading in Kenya Airways shares for three months while the government debates whether to nationalise the airline. The National Aviation Management Bill 2020, published in mid-June, proposes folding the airline into a state-owned aviation holding company.
Kenya Airways could not immediately be reached for comment. The SkyTeam carrier's pre-tax losses deepened to KSh13 billion ($122 million) for the year ended December 2019.
African countries are beginning to reopen their borders after many shut down air travel in March to curb the spread of Covid-19. However, the World Health Organization has warned of the delicate balance between resuming international flights to help economies recover and avoiding a surge in coronavirus infections.
"Air travel is vital to the economic health of countries," states the WHO's regional director for Africa, Dr Matshidiso Moeti. "But as we take to the skies again, we cannot let our guard down. Our new normal still requires stringent measures to stem the spread of Covid-19."
So far, Cameroon, Equatorial Guinea, Tanzania and Zambia have resumed commercial flights, according to the WHO. The 15 members of the Economic Community of West African states are expected to open their airspace on 21 July, it adds. Rwanda has announced that it will reopen to scheduled international flights on 1 August.
"Many African countries acted swiftly, implementing confinement and travel restrictions in the early days of the pandemic," says the WHO, noting that 36 African nations closed their borders to international travel, eight suspended flights from countries with high Covid-19 transmission, and others "had partial or no restrictions".
African airlines stand to lose $6 billion of passenger revenue this year, compared with 2019, and aviation job losses could total 3.1 million, IATA has forecast. Figures from the African Airlines Association are even bleaker, suggesting that the continent's carriers face revenue losses amounting to $8.1 billion this year.